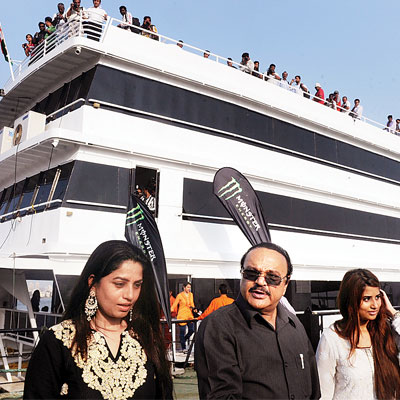 The city's first floating restaurant was officially inaugurated by tourism minister Chhagan Bhujbal on Wednesday. It'll, however, be opened to the public only after being completed in August.
Tourism industry insiders claimed it was political compulsions that had led to it being opened before being completed. The assembly elections are expected around September-October and the 'model code of conduct' could come in the way of it being inaugurated then.
Dna had reported on March 2 that Maharashtra Tourism Development Corporation (MTDC), in collaboration with a private operator, was planning to start a floating restaurant based out of Bandra.
The floating restaurant will be based out of Maharashtra Maritime Board jetty, near Bandra-Worli Sealink. "Maharashtra receives the maximum number of foreign tourists in India, besides Mumbai has many affluent domestic tourists.
It would be a major tourist attraction," said Bhujbal.
This will the first of many such projects that would come up across the state, said tourism board officials.
It would be a great experience for food lovers who want to have a good time with their near and dear ones amidst the breath-taking view of the sea, Paraag Jain Nainuttia, chief executive officer of MMB, told dna.
The 3-tier luxury facility with a sky deck and two galleys, will have two multi-cuisine restaurants, including a club lounge, and a 24-hour coffee shop. It can accommodate 660 guests at a time.
The restaurant would see full-fledged activities only from August; till then it would function mainly during evening hours, said MTDC officials.
The development is significant, as many cities across the country and the world like Goa, Hyderabad, Bangkok, etc, have developed tourism around floating restaurants with special dining cruises and parties being organised on river and sea beds.
In Mumbai, parties and dining on ships that used to be organised during new year celebrations have been barred since the terror attack of 26/11 when 10 Pakistani terrorists, who reached the city through the sea, unleashed an attack that led to the death of 166 people.