Bóveda, Westcoast's new hangout bar, is winning plaudits by putting its stamp on the live music scene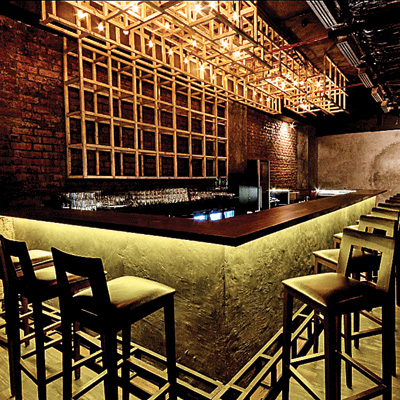 Dining in North Mumbai typically revolves around its restaurants, featuring menus from across the globe, but with Bóveda, the new kid-on-the-block, a change is on the cards. An industrial warehouse-style space—complete with flawless acoustics, great atmosphere and live music gigs— this restro bar, tucked away in the busy suburb of Lokhandwala, Andheri, is emerging as a popular hangout for youngsters.
At Bóveda, a less formal dining experience awaits patrons and guests; it seems to have reignited Westcoast's long-held desire for a hip music hub in the suburbs but in a wholesome manner. "The suburbs just got its own relaxed restro bar where we can just chill and enjoy the music. We have been lacking on a good live music venue," gushes Westcoast resident Aastha Kulkarni, who visited the place on a recent evening. The brainchild of two enterprising youngsters, Yasho Sonathlia (23) and Abhishek Goyal (24), Bóveda stands for the 'vault' in Spanish and is designed to look like one. The place conjures up images of fairy tale castles; huge wooden doors grace the entrance and once the doors close behind you, it feels as though you have stepped into a vault.
While Sonathlia handles the operational stuff and overseas the overall running, Goyal, a 24-year-old DJ is in charge of the music. Sonathlia, an Asian food lover, spent the last five years in Singapore doing a management course, only to dump his highly-paid management position and chase his dream of starting a restaurant with his childhood pal and now business partner, Goyal.
"At Bóveda, music is the USP no doubt!" quips Goyal, "We want people to come here for the music along with the food and ambience. No longer does one need to drive all the way to town to experience great music."
One of the most active restaurants in North Mumbai, Bóveda is known for its quality of gigs and artists playing every week. From live bands to tech DJs and EDM, Bóveda has hosted a wide variety of talent and is now known for its live gigs. Artists like DJ Ankytrixx, Ma Faiza, Mental Martians and event companies such as Submerge have all tied up with the restro bar for their gigs and events. However, till date no international artist has played here. "But very soon that too will be a reality," says Sonathlia. The word-of-mouth publicity has made the place a popular hangout spot in the suburbs.
The team at Bóveda is young and raring to go. "The idea behind having an all-young team was to ditch the old stuff, avoid clichés and break norms. We don't really have a body of work but we're willing to make mistakes and learn from them," explains Goyal.
- Brilliant place, courteous staff, mouth-watering food and magnificent ambience- Arjun Khopkar
- Pork sliders... Ah, the pork sliders... I want those pork sliders... NOW!- Ashok George
G04, Morya Landmark One, Plot B-25, off New Link Road, Oshiwara Village, Andheri West
Call: 022 6708 0858/59
www.facebook.com/bovedathebar