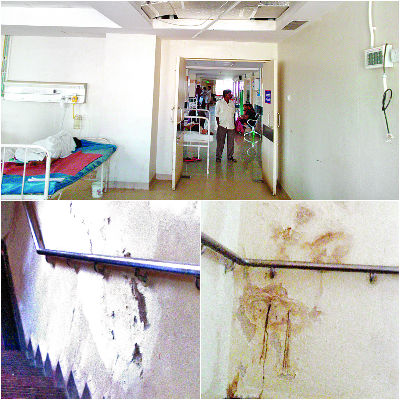 The collapse of a portion of the ceiling at the newly-built Shatabdi hospital in Kandivli last week has drawn severe criticism of the construction work and a fresh demand for a structural audit.
On Tuesday, senior civic officials from various departments, including buildings construction and engineering, were taken on a round of the three-storey hospital building to see for themselves the problems that have raised concerns over the safety of patients being treated there.
"There are major cracks on the walls that are scary. If the building collapses it could cost many lives," Ramashish Gupta, the local Congress corporator, told the officials.
Gupta said that he had raised the matter at a meeting of the corporation some time ago, but he received ambiguous replies. "I also submitted a written complaint to the municipal commissioner, but I have not received any response yet," he said.
He also pointed to broken power switches, incomplete electrical wiring and plastering work, toilets in poor condition, some even without taps, and no proper drinking water facility. "Nothing less than a complete structural audit should be done," Gupta said.
A technician was injured when a portion of the ceiling in the x-ray department was dislodged on Thursday.
Dr Mahendra Wadiwala, chief of peripheral hospitals, who met with the civic officials at Shatabdi on Tuesday, assured that repair would be undertaken soon.
The municipal hospital, which was constructed at a cost of Rs105 crore, was inaugurated about six months ago by Shiv Sena chief Uddhav Thackeray, without the work being completed to beat the announcement of the Lok Sabha polls.
Questions have also been raised about the insufficient staff at all levels, including senior doctors.
"After Bhagwati hospital in Borivli had to be shut down for major repairs, all patients from there flocked to Shatabdi. But if they do not get proper treatment here, where are the poor to go?" asked Gupta.
The Congress corporator said he had raised an alarm about poor quality of work even when the construction was in progress. He says he wrote to the civic chief, but no action was taken on his complaints.
"In fact, I received a reply from the civic administration stating that quality checks were being done at each stage of the construction. I was assured about the quality of the work and now see what has happened," Gupta said.