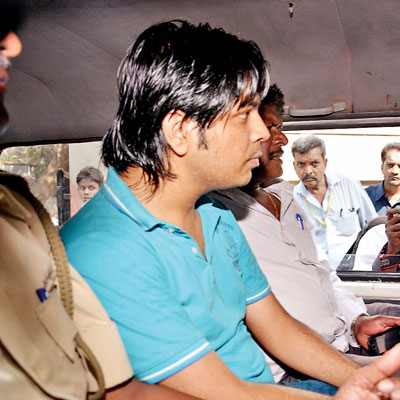 Popular playback singer Ankit Tiwari was arrested by the Versova Police on Thursday from his residence in Andheri (East) on charges of rape filed by a 28-year-old woman.
As per the complaint, Ankit was reportedly involved in a relationship with the victim for the past two and-a-half years and allegedly raped her making false promise of marriage.
Ankit got instant success and fame last year after the songs he sang in the movie, 'Aashiqui 2', became popular.
Based on the complaint, police have also arrested Ankur Tiwari, Ankit's elder brother, for allegedly threatening the victim with dire consequences if she tried to get close to Ankit. The victim lives in Andheri (west) along with her eight year-old daughter and younger sister. She works in an event management company.
According to the police, the victim first met Ankit in her office through a common friend on the occasion of Durgapuja in October 2012, and exchanged mobile numbers. The two then got into a relationship after Ankit promised to marry her.
The victim, in her complaint, has claimed that she told Ankit about her past when he proposed. He had apparently promised her he was ready to accept her daughter.
"According to the complaint, Ankit raped her on the occasion of her younger sister's birthday party at her place. He forced her to drink and later took her to the bedroom where he raped her," said assistant police inspector M Bodkhe of Versova station.
"Next day, the victim told her sister about their relationship. When confronted Ankit promised the victim he would soon marry her," added Bodkhe.
"On August 7 last year, Ankit went to her place for lunch. When the victim's friend asked him when he would be marrying her, Ankit reportedly took her to the small temple inside the house and applied sindoor on her forehead. Ankit then said he would soon register the marriage," the officer added. "But after a few weeks, Ankit started avoiding her," Bodkhe said.
"The victim even visited Ankit's native place in Uttar Pradesh, but his family reportedly turned down the marriage. The victim approached the Versova Police in February and gave a written complaint. After thorough verification, the police registered a case on April 14. Following this, Ankit and his brother were arrested on Thursday," Bodhke said.
Ankit has been arrested under IPC sections 376 (rape), 493 (cohabitation caused by a man deceitfully inducing a belief of lawful marriage), and 506(2) (criminal intimidation), and Ankur on charges of criminal intimidation.