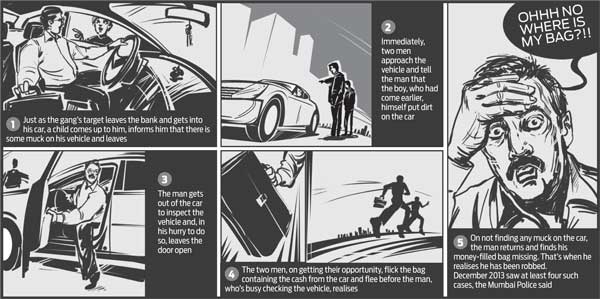 —Ravi Jadhav
When a child approached a 56-year-old businessman from Dahisar, who'd just got into his car after withdrawing Rs4 lakh from a bank, and told him there was some dirt on his vehicle, little did he know that he was about to fall prey to the oldest trick in the book of thieves, who have been using the same for around four decades and have seldom failed.
Soon after the boy told Kanti Sojitra and left, two men approached him and told him that the boy himself had dirtied his vehicle. An unsuspecting Sojitra got out of the car to clean it, giving an opportunity to the two men to steal the bag with the money from inside the car.
This isn't an isolated incident. In December 2013, the Mumbai Police lodged at least four such cases.
If crime branch officials are to be believed, this modus operandi has been prevalent since the 1970s and still continues to fool people who are either ignorant or assume that they would never fall prey to such gangs.
A crime branch official said such gangs come from the south of India. Many of them get arrested but never give the names of their accomplices. The men have now inducted their kids, so as to look less suspicious to their targets.
Explaining the modus operandi in detail, the officer said these people use their kids to approach a target. Before this, they make a paste of glucose biscuits with water and covertly throw it on the target.
The children then go and tell the person that s/he has muck on him/her or his/her vehicle, which makes the target immediately want to clean up. If cleaning himself/herself, the person usually goes to the nearby shop for water and keeps the bag on the ground and, if cleaning the vehicle, s/he gets out in a hurry to look where the muck is, leaving the door open, on both occasions giving the elder members of the gang the opportunity to flick the bag, the official said.
"At times, the gang also drops a Rs50 or Rs100 currency note on the road and asks the target if it's his/hers. Even if the person has Rs50 lakh, or basically a lot of money, with him/her, s/he will still fall for the currency note," the officer added.
"Such gangs wait outside banks. A few members are inside the bank checking on the people withdrawing money and then signal their accomplices outside. The only way to evade these people is to not fall for anything they say. Even if there is muck on you, go a little farther or wait till you reach home to check and clean it," said the crime branch officer.