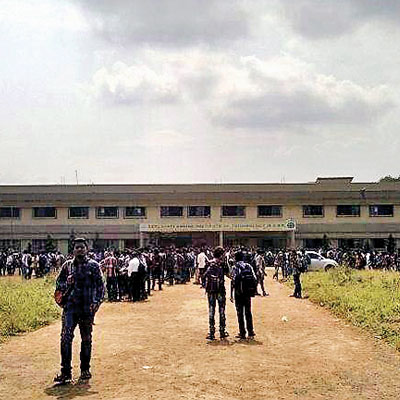 More than 700 students of various branches of Lilavati Avhad Institute of Engineering and Management, Badlapur (Thane), have landed in a soup with their results held up at the university. The reason: Their institute didn't follow the norms laid down by the Directorate of Technical Education (DTE) while admitting students in the first year.
Because the four-year-old institute allegedly didn't abide by rules after repeated reminders, the DTE directed the varsity to withhold results of the students.
The college offers four courses — mechanical (120 seats), electronics (60 seats), electronics (60 seats) and telecom and computer engineering (120 seats). "Though the college claims to have good infrastructure and faculty, in reality it neither has facilities nor approved faculty," claimed advocate Manoj Tekade, who is associated with Prahar, a students' organisation.
The students allege that the college failed to submit their records to the DTE in time, which is mandatory in order to prove that the institute admitted students as per the allocation made by the DTE under the centralised admission process. The DTE then sends the documents to the varsity for the enrolment.
Prahar has escalated the matter to the higher education and home ministries. Its members met higher education secretary Sanjay Kumar demanding strict action against the college officials. We will soon be meeting RR Patil seeking arrest of the college authorities for cheating the students, said Tekade.
Principal RV Kalembevakar and trustee Sandeep Sahare remained unavailable for comment.
Controller of exams Padma Deshmukh said, "The DTE has asked us not to declare the results. However, on Wednesday, it told us that it would have no objection if varsity declared the results. We will now release the results."
FIR against Avhad college for issuing fake mark sheets
On Wednesday, two final-year students filed an FIR against principal RV Kalembevakar, trustee Sandeep Sahare, HoD Narkhede and other trustees of the Lilavati College at Kulgaon police station (Thane rural) for allegedly issuing fake mark sheets to them. A case of cheating, forgery, forgery for purpose of cheating and possessing counterfeit materials has been registered against them
The students, Ambadas Sangoli, 23, and Amit Pathak, 22, were allegedly given a duplicate hall ticket and, subsequently, fake mark sheets in December 2013 for the ATKT exam of first semester, which they took in June 2012 that too after much persuasion
Sangoli told dna, "The mark sheets carry signature of Vilas Shinde as controller of exam of university though Shinde had resigned in 2012. The police are investigating... When we inquired with the varsity, we were told it's all fake."