In a press interaction, Chidambaram spoke out about UPA government's achievements and how inflation has been reined in. He targetted Narendra Modi's model of business calling it crony and said that he would have contested against Modi from Varanasi had it not been for his inability to converse in Hindi.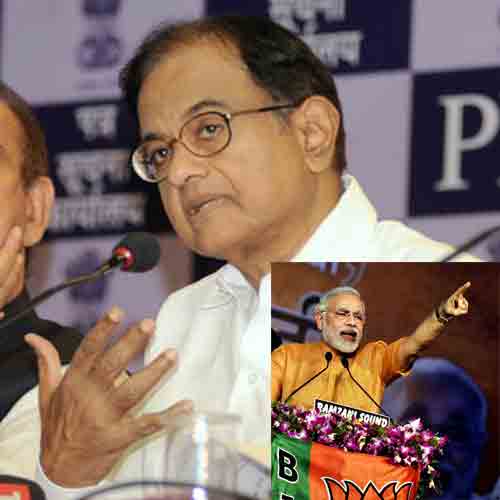 Finance Minister P Chidambaram on Monday afternoon said the government is hopeful of meeting major fiscal consolidation targets and the country's current account deficit is estimated to come down to $35 billion in the 2013-14 from a record high of $88 billion.
"The economy today is far more stable and far stronger than it was 20 months ago," Chidambaram said at a media conference.
The finance minister said the country's fiscal deficit would be around 4.6 percent of the gross domestic product (GDP), as outlined by him in the union budget for 2013-14.
Finance Minister P Chidambaram addresses his first news conference after he pulled out of the Lok Sabha race.
Below are the pointers of what he spoke at the interaction:
*On West Bengal's government asking for special packages, he said, "Special package to Bengal had been extended even after I took office but they wanted us to take care of their monetary debts. How can central government take over debts for one state? Other debt ridden states would follow suit and ask us to intervene. To top it all, other states that have managed their debts could ask for interest burden rates".
*This statement also brought to forefront Mamata Banerjee's Trinamool congress' ire towards centre for not providing relief packages.
*Wish I could contest from Varanasi. But I don't speak Hindi, but I am sure Modi wouldn't want to contest from Sivaganga either: Chidambaram
*Our reserves have crossed 300 billion USD as of date: Chidambaram
P Chidambaram: 2007-2008 was the most outstanding year in the history of Indian economy pic.twitter.com/6VS7idrCnD

— ANI (@ANI_news) March 31, 2014
*There are sections of business which are very comfortable with Narendra Modi because of his brand of crony capitalism: Chidambaram
*I am not retiring from politics but there are many other things I want to do: Chidambaram on his decision to not contest Lok Sabha polls
*We will consider some relaxation on gold import in consultation with RBI after monetary policy, said P Chidambaram
*The celebrations began when Yashwant Sinha declined to contest elections, says Chidambaram taking a dig at the BJP leader
*Many of the 18 questions posed by Yashwant Sinha were quite puerile, says Finance Minister Chidambaram
*We have successfully contained fiscal deficit and current account deficit, says Finance Minister Chidambaram
*Economy more or less stable. No one talks of downgrade as fundamentals are strong. I can only see spirited growth: P Chidambaram
*We have moderated the inflation, says Finance Minister Chidambaram as he defends UPA's track record on economy
*2007-08 was an outstanding year for the Indian economy on every parameter, says Finance Minister Chidambaram as he defends UPA's record
*The Indian economy is now stable and the fundamentals have strengthened, says Finance Minister P Chidambaram
*I have fought 8 elections over last 30 years,now I want to do certain other things in life,but not retiring from politics- P Chidambaram
*Narendra Modi's brand of capitalism is crony capitalism- P Chidambaram
*No case to revisit the cabinet decision on gas pricing. I would defend the cabinet decision-Chidambaram
*Market celebrations began when Yashwant Sinha had declined to contest elections,continued when Jaswant Singh was expelled-Chidambaram
*Unemployment rate is lower than under the NDA government - P Chidambaram
*Most of the questions are very puerile that is why most of the business papers did not carry them: P Chidambaram on Yashwant Sinha
*P Chidambaram: We have moderated inflation, inflation has come down