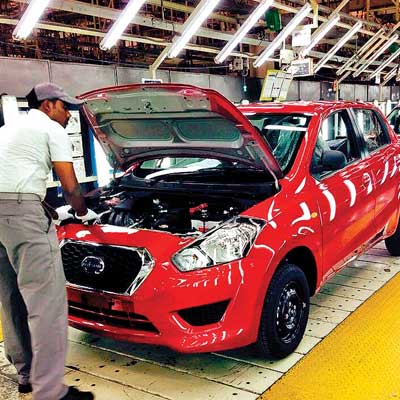 Today the first Datsun in over 33 years will roll off the production facility at Chennai and is the harbinger of change for its parent Nissan.
Datsun's new hatchback GO which will be priced at less than Rs4 lakh is likely to give other hatchbacks a run for their money. India is the lead market to kick off the manufacture of GO, which is part of a four-nation manufacting programme.
There are other new cars in the offing. Apart from Datsun, Tata Motors, which hasn't had a major launch in a while, showcased at the Delhi Auto Expo a hatch, named Bolt, and a compact sedan, named Zest. The Bolt and the Zest are built on the same platform as the Vista; however the similarity ends there.
The new Tata cars, which are set for a market debut in the second half of 2014, are slated to be introduced with the new Revotron engines that offer both performance and mileage. Other state-of-the-art features include the multi-mode drive options, where the driver can choose between efficiency and performance, depending on how they wish to drive at a given moment. Tata is also introducing an automated transmission system, similar to the one found on the Suzuki Celerio. However, they intend on introducing it with their diesel engine models.
Vincent Cobee, the global head of Datsun, makes no bones about the fact that the dashing hatchback GO is a car for early risers, a new generation of first-time buyers.
Benchmarked on the space per rupee formula against the likes of the Maruti Suzuki Alto and the Ford Figo but packing in a larger engine tuned for driveability and high fuel efficiency, the Datsun GO does make its presence felt, at least on paper.