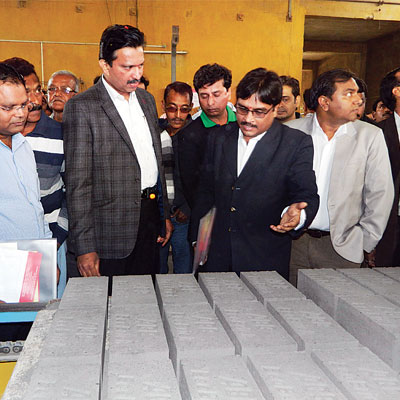 Cement and bricks, in most of the places, go hand in hand.
Yet while the former has always been the domain of organised players, bricks have always been its poor cousin, staying forever at the realm of unaccounted underbelly of the economy dominated by exploitative technologically-challenged entities.
Cement maker ACC Ltd plans to change that becoming the first large industrial house to start making bricks, more particularly the eco-friendly variety made from fly-ash.
To start with, ACC has set up four fly-ash brick plants in West Bengal, Chhattisgarh and Jharkhand, which produce about 60,000 bricks a day with one being set up in Coimbatore, all under the franchisee model.
The bricks are being sold under ACC's own brand name EcoBricks using a German technology and would be sold mostly through ACC's own cement dealers' network, said C Kurian, director sales in eastern region.
"We plan to set up 20 plants in the eastern region by 2015, and may be 100 in the foreseeable future, which will give us the requisite scale. The region was chosen because of abundance of coal-fired power plants than generate fly-ash. We will also start looking at opportunities in creating such facilities in other parts of the country as well," Kurian said at the inauguration of the largest plant at Burdwan which has started churning out 30,000 bricks a day,
With construction boom continuing across the country but the conventional coal-fired brick kilns fast earning a bad name for their ecologically unsustainable ways destroying the fertile top soil and creating pollution, fly-ash bricks are the building blocks of the future, Kurian adding that some large industry houses like ACC are contemplating entering this sector.
"States like Chhattisgarh and Jharkhand have snapped coal linkages to these clay brick units, which we believe would die a natural death creating more opportunities for us," he said.