After 163 years of service, the plug is pulled on telegraph services across the country and its fans rush to bid nostalgic goodbyes.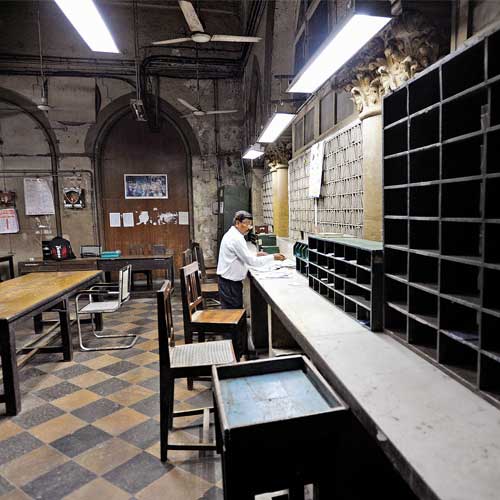 In 1921, the annual Session of the Indian National Congress was to meet at Ahmedabad. Ganesh Vasudev Malvankar (who became the first speaker of the Lok Sabha) was the secretary of the panel handling reception.
He had ordered large quantities of hand-spun, hand-woven cloth (khadi) for the decoration of the dais and the delegates' enclosures. The payment for the cloth had to be made in daily instalments of nearly Rs. 15,000 from the Bombay provincial committee. When the amount didn't come for many months, despite reminders, the money at his disposal for the arrangements hit a record low.
A worried Malvankar wondered how to make further payments if the money did not come. Luckily Gandhiji was going to Bombay. He explained his desperation to the Mahatma and told him to ask the Bombay committee to rush the money the very day he reached Bombay. He also requested him to keep him posted about the development with a telegram. Gandhiji agreed and Malvankar waited for the telegram. When it did not arrive his anxiety knew no bounds. He concluded that Gandhiji had forgotten this smaller task as he went about more important commitments.
The next day, Malvankar got a letter from Gandhi. It contained a telegraph form with a telegram that Gandhi had drafted for submission. At the back of the form was Gandhi's letter in his now famous poor handwriting. "Dear Malvankar, I know I am prolonging your anxiety for 24 hours. But today being a holiday the telegram charges would be rather higher. As the money will surely be remitted, I preferred to save the telegram charges even if it meant continuation of your anxiety for some
hours."
Malavankar's great grandson Vinod, 42 who lives in Kalyan says the family treasures the telegram. "At a time when any telegram will soon achieve archival value, you can imagine the value of something like this," he told DNA.
Nearly a century after this episode, when many cynics may laugh at the paltry savings from the telegram compared to the sheer number of zeroes in every recent scam, the humble telegram which has marked many a milestone in the journey of this country over the last 163 years since being opened for public in February 1855, is finally bidding adieu. Bharat Sanchar Nigam Ltd
(BSNL), in a circular issued senior GM (telegraph services) Shameem Akhtar, has asked its telecom district and circle offices to stop booking telegrams after July 15.
BSNL which took charge of the telegram services from the department of posts in 1990 has found itself reeling under losses as texting, email, fax and smart phones began replacing telegrams. Despite staring at losses of over Rs 17,000 crore in the past two fiscals, BSNL had attempted to keep the 163-year-old legacy going.
Telegraph charges were raised in 2011 after six decades when telegraphing 50 words within the country was priced at Rs50 instead of Rs 4 earlier. But with few takers, this price hike could not make the service viable for the loss-making PSU which had already discontinued international telegrams two months ago.
Such logical explanations about the commerce and economics of telegrams has little effect on Vaidehi Deshpande 51, a resident of Prabhadevi who regularly uses telegrams to wish his friends and family.
"While I use telegrams to wish people on birthdays and stork-visits too sometimes, I
have unfailingly wired congratulatory messages to all my friends and family for marriages. In an era of whatsapp, facebook, mail and texting this seems like a nice way to ensure your message stands out and gets noticed. It also brings an element of surprise," points out this bank employee.
"I come from a generation of middle class people who began with rotary phones and black
& white TVs. The telegrams were a hand-me-down from even before. You can call this stupid nostalgia but just like you don't throw away the broom because there's vaccum cleaner at home, why can't they increase charges and keep it going."
Her elder son Vinayak, 23 who has just finished his MBA from Pune doesn't quite agree, "Aai how can we live with obsolete technology. Weren't you happy that I was whatsapping you and Baba everyday even if I couldn't call?" he asks. Deshpande is almost fuming by now. "That's the trouble. Everybody wants everything from food to surgical procedures and even rituals to become instant. What happened to the beauty of savouring a moment. For me, this is not merely an obsolete technology but the symbol of a way of life."
She recalls being in Ratnagiri in response to a telegram: Mother serious. Start Immediately, few years ago. "When I reached, my mother who was bed-ridden for two years could barely speak. We had all made our peace with her going away since we'd seen her suffering. My younger one Aditya had flunked his class XII and I was more concerned about him since his results were coming out. On the day that my mother died, amidst all the grieving, my bother was attending to sending telegrams to the extended family: Aai passed away. Even as they were discussing the wording, I got a telegram from Aditya: Passed. Despite it seeming odd, I smiled and touched my mother's feet thanking her for blessing her grandson."
Her neighbour homemaker Jaya Dholakia, recounts how a wrong delivery of a telegram had led to mayhem in their earlier chawl home at Dadar's Agar Bazar nearly 25 years ago. "My father's name was DJ (Dinesh Jayantilal) Barot and we were on Room 1/2 on the ground floor of the chawl. A first floor neighbour in Room 2/1 was JD (Jaidev Durgadas) Barot," she says smiling at the comedy of errors that transpired.
A telegram arrived at ground floor Barot residence in the afternoon Jaya's mom Saritaben was resting. Mother serious. Start Immediately. Since she was not conversant with English she asked the postman to read it and began beating her chest and crying thinking it was her mother dying. In her shock, she hadn't bothered to check the sender's details.
"Only 20 minutes later when a sizeably huge number of women from the neighbouring homes gathered did one of them ask to see the telegram," recounts Jaya. "It was discovered that not only was it a telegram for the other Barots in the chawl but there was no real critical illness involved, but only a ruse. To get leave from his office Jaidev kaka had asked his brother in Baroda to send him a telegram."
According to the homemaker who has herself never sent or received any telegrams, even the mention of the word would leave her mother red-faced till she lived.
Across the city at the Borivali DTO, a list of 44 numbered draft messages that users can select are displayed. Many relate to religious holidays, some national ones but like the staffer who has manned the seat for 28 years told this paper, "Today they are saying this system is redundant, tomorrow they may say the same to thousands of staff like us too," she scoffed saying all the talk of redeployment was not cutting ice with the team. Her boss who spoke on condition of anonymity said many knew this was coming. "The department introduced web-based messaging system in 2010, but growing internet connectivity and cheaper mobiles kept people away from the 182 telegraph offices."

Tracing the history
In India, first telegraph message transmitted live through electrical signals between Calcutta and Diamond Harbour, a distance of about 50 km, on November 5, 1850.
Service opened for the general public in February 1855.
The telegram served East India Company far beyond its trading needs. Historians believe that in 1857, when Indian troops rebelled, sparking a widespread uprising against their colonial masters, the telegram gave the British an edge in regaining control in a well-planned strategic crackdown.
Many important announcements have been delivered by telegram:
*A 230-word message sent in October 1947 by India's first Prime Minister Jawaharlal Nehru informed his UK counterpart in London, Clement Attlee, that Kashmir was invaded by Pakistani forces. "We have received urgent appeal for assistance from Kashmir government," he wrote. "We would be disposed to give favourable consideration to such request from any friendly state."
* Mark Twain when he learnt that his obituary had been published in the US, sent a telegram from London in 1897: "The reports of my death are greatly exaggerated."
* When Gandhiji was assassinated, the Centre sent telegrams to all presidencies and princely states. The message read "Government of India. Regret. Mahatma Gandhi was victim of shooting outrage. Gandhiji expired yesterday evening. Cremation will take place Saturday 4 pm. Prime minister has broadcast Saturday 31st be observed as day of fasting and prayer. Suggests offices should close entirely and flags half mast from sunrise."
* Nehru and King maintained a casual correspondence until Nehru's death in May 1964. In a telegram to Nehru's daughter, Indira Gandhi, on 27 May 1964, King said that the prime minister's death was a ''great loss to the whole world'' and that ''generations yet unborn will be inspired by his noble life.''
Bollywood's tryst with the telegram
Bollywood has had its fair share of telegrams marking both happy and sad moments, remembers film historian Mukul Joshi.
"This was more common in the 50s and 60s though and by the 90s with people turning away from telegrams to communicate movies too moved away," says Joshi who adds, "The arrival of the taar (telegram) and the blowing out of a lamp in the foreground to convey death became such a cliché that after a point, these scenes became more funny than sad."
According to him the funniest use of the telegram is in Chupke Chupke, the 1975 Hrishikeh Mukherjee comedy starring Dharmendra and Sharmila Tagore. When a telegram announcing the arrival of Parimal arrives, the crisis mode that Om Prakash and Usha Kiran's characters go into, leaves audiences in splits despite repeated viewings.