Even after two decades, foodies in the capital can never get enough of Basil and Thyme's classic fare. Manisha Pande speaks to the founder of Delhi's oldest continental restaurant.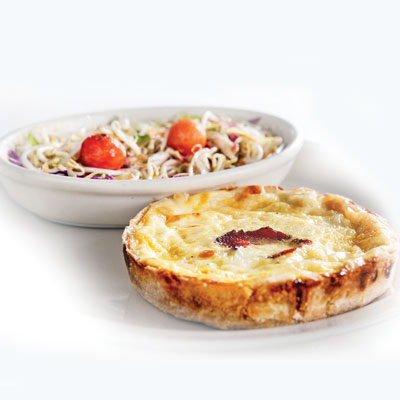 Over the past decade, Delhi has seen a burst of fine-dining restaurants, pizzerias, steakhouses and fancy pâtisseries. Some offer "authentic" cuisine from little-known parts of the globe, others an "eclectic" dining experience with kitschy interiors — scooter hung mid-air, empty bottles as lampshades and so on. However, not many get it right or manage to retain interest beyond one or two tasting events. It's remarkable, then, to see Basil and Thyme survive for more than 21 years with its minimal continental menu and spartan decor.
Tucked in one end of the landscaped garden of the Santushti Complex — a high-end shopping centre started by the Air Force Wives' Welfare Association in the early '80s and just across the road from the prime minister's residence — Basil and Thyme boasts of a loyal clientele that keeps coming back for more, assured that their favourite item on the menu will be exactly the way they want it and the few new additions, should they try them, will not disappoint.
Things were a little different, though, when the restaurant first opened in October 1992. Delhi's tryst with European cuisine had been limited to plain old croissants or chicken on a sizzling platter. (Only the very rich could afford an authentic experience in La Rochelle at the Oberoi or other five-star restaurants run by foreign chefs.) "I knew that the one thing Delhi lacked was a standalone restaurant that offered quality continental fare without being too heavy on the pocket. Of course, I was told that a beer and kebab place would run better," says Sunil Chandra, who started Basil and Thyme when his mother-in-law Bhicoo Manekshaw was asked by the then air chief marshal's wife to open a restaurant in Santushti.
Manekshaw — the first Cordon Bleu chef from India and wife of Air Vice Marshal Manekshaw — was also inclined to give Delhi its first taste of European food. It was not an easy start. "Back in those days, we didn't have half the ingredients available in India required to make pastas and quiches. So we set up a kitchen garden to grow our own herbs. Any friend or relative coming from abroad had to get us dry herbs," says Chandra. "Also people weren't used to having fish or pork, so we introduced the latter only recently and served fish only once a week."
The restaurant soon became famous for its innovative twist to the classic croissant. "We served it as a sandwich with a creamy mushroom and chicken sauce spread." Also the cheeses in the classic Quiche Lorraine were mixed in the right proportion to lend it a creamy texture without being overpowering.
His long experience as a hotelier — Chandra was general manager at The Oberoi before he started Basil and Thyme — also made him realise that much depended on presentation and, peculiarly, how the dish sounded. The restaurant served pumpkin soup only to realise no one wanted to pay for kaddu at a fine-dining affair. "We changed it to butternut soup, butternut being a variety of pumpkin, and soon had people ordering that soup even though it didn't taste much different from pumpkin soup."
Basil and Thyme now has the capital's power elite eating out of its hands. It also has a Bollywood fan base that includes the likes of Karan Johar, Saif Ali Khan, Tabu and Rekha. One of its oldest loyalists is Prof Ajay Parthasarthi, former science adviser to the late prime minister Indira Gandhi, who has been coming to the restaurant for more than 20 years. He speaks fondly of Manekshaw, remembering her as a graceful chef and hostess. She could be found cooking up specials of the day until last year when she passed away. Her walnut-date cookies remain the stuff of legends. "Their deserts are just phenomenal and they have been delivering consistently without overcharging," he says. A meal for two at the restaurant, which closes in the evening, costs about Rs1,600.
Chandra believes passion is the most important driving force behind running a restaurant. He makes surprise visits to the restaurant to ensure that the chefs don't slacken and tastes remian consistent. Basil and Thyme does not serve liquor because Chandra did not want any "distractions". "Food anyway tastes good after a few drinks, so it's no measure of the quality."
Food critic Sourish Bhattacharya takes stock of the restuarant's success when he says "It has delivered consistently good food through the years. If they run out of something, they just say so. Back in the '90s, it offered something new without being too avant garde and has come to mean comfort food for many," he says.