India's only wildlife taxidermist Dr Santosh Gaikwad talks to Roshni Nair about the joys, rigours and importance of his profession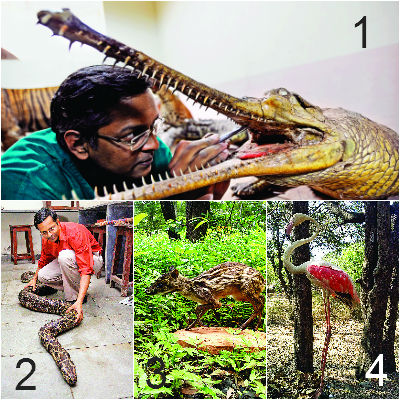 There are few places in the city where petrichor – the scent of rain on dry earth – is as pervasive as in Borivali's Sanjay Gandhi National Park (SGNP). But head to the sanctuary's Wildlife Taxidermy Centre, and chances are you will be bombarded by a plethora of smells ranging from glue, clay, shaved wood, and a hint of polyurethane.
41-year-old Dr Santosh Gaikwad, the driving force behind the centre and a Professor of Anatomy at Bombay Veterinary College in Parel, is India's only wildlife taxidermist. Clad in green scrubs, he greets me with a sheepish smile and stops just short of offering a handshake. "There's papier-mâché on my hands," he says, extending his palms. In the backdrop is a stuffed mule being attended to by two assistants.
"This," explains Gaikwad, pointing to the life-size model of the mule, "is for the army's Artillery Centre in Nashik. Mules are an important mode of transport for the army because they carry artillery, spare parts and rations." Gaikwad has been working on the specimen for one and a half months and will hand it over to the Regiment of Artillery Museum upon completion.
From having to store domestic birds in his deep freezer at home to eventually being given a centre by the Maharashtra Forest Department, it's been an eventful journey for Dr Gaikwad. The self-taught taxidermist developed a love for the art after visiting the Natural History section at Chhatrapati Shivaji Maharaj Vastu Sangrahalaya. Since taxidermy has a fledgling presence in India, the only people he could learn the ropes from were bird taxidermists. Gaikwad gradually started his own practice by working on poultry and pigeons. "My wife was initially averse to my newfound interest, but she came around," he smiles.
Taxidermy, which literally means 'movement of skin', is mistakenly associated with trophy hunting by many Indians, says Gaikwad, who believes the art has the power to bring dead animals to life – metaphorically, of course. The Wildlife Protection Act of 1972 allows taxidermy only for education purposes, and that's exactly what Gaikwad stresses on.
"My mission is to preserve the beauty of animals, whether endangered or not, for future generations." he explains. The critically-endangered Great Indian Bustard, he continues, number just 14 in Maharashtra. Preserving a naturally-deceased bustard and displaying it in a conservation centre can enlighten people about the plight of threatened species and play a crucial role in education and research.
The process of taxidermy should start within 24 hours of an animal's death because it's impossible to preserve specimens when decomposition sets in. Gaikwad recounts the time he could only salvage the head of a deceased elephant in Gadchiroli district since its body was decayed by the time he reached the spot. "It took four and a half months just to work on an elephant head," Gaikwad says as he ushers me into a room cluttered with tables, bags of clay and bird specimens. Two antelope and wildebeest trophies that were seized from Africa line the walls. But the standout in the room by far is the majestic, frighteningly lifelike head of the elephant Gaikwad had spoken about. Not surprisingly, it's the work he's most proud of.
Taxidermy is painstaking for a number of reasons, he says. The first and most important precaution to take is against zoonotic diseases like anthrax and rabies. For this reason, taxidermists don shoulder-length gloves and masks while skinning a dead animal. The skeleton is also removed so that an identical prototype can be built based on its structure. Clay moulds are applied and then replaced with fibreglass casts. The last stage in taxidermy involves the use of preserving chemicals and applying the skin or hide prior to mounting the specimen.
"Taxidermy is the combination of four arts: anatomy, sculpture, carpentry, and painting," says Gaikwad. Given that he's an anatomist by profession, Gaikwad had to learn sculpting from Mumbai's famed Ganapati idol makers.
As India's sole wildlife taxidermist, he is inundated with requests by conservation centres and zoos across the country for help in showcasing specimens to educate the general public. From Himalayan black bears, various fish specimens and gharials to Olive Ridley turtles, peacocks and lions, Gaikwad has stuffed over 300 animals and counting.
His mission to spread the word about the importance of wildlife taxidermy seems to have paid off. In June, the Forest Department conducted a taxidermy training programme for 15 staff members. And although Gaikwad is passionate about his work and has two assistants to help him out, he feels the country is in dire need of more taxidermists.
"I'd like to see taxidermy incorporated in zoology courses across India. It's not just an art – it's an invaluable educational resource that celebrates India's bounty of wildlife. People mustn't forget that."
A brief history of modern taxidermia
The Victorian era from 1837-1901 was the golden age of taxidermy. The man responsible for generating great interest in the art, John Hancock (1808-1890) was an English naturalist and ornithologist. Hancock is widely considered to be the father of modern taxidermy. His most famous work, titled 'Struggle with the Quarry', depicts a heron holding an eel and in turn, being attacked by a falcon. Hancock's prototypes, which were modelled in clay and cast in plaster, became famous not just in England, but throughout Europe and across the Atlantic. Queen Victoria, an ardent admirer of taxidermy, also had her own collection of stuffed birds.