Youngsters taking risks and wanting to work with startups is emerging as a popular trend in the job market, says Nasscom.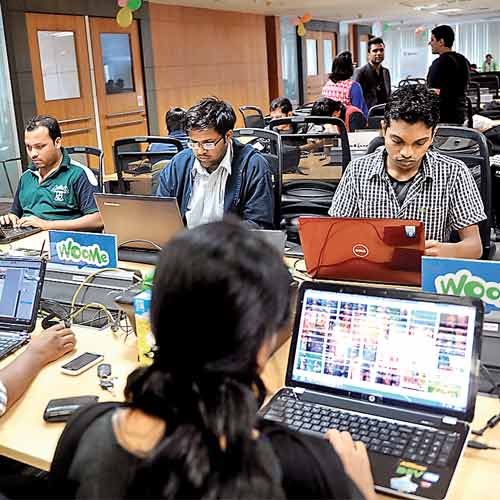 Working in a big firm to gain work experience is passe now. Future entrepreneurs are preferring to work in startups to gain hands on experience on how to deal with day-to-day matters.
Youngsters wanting to work with startups is emerging as a trend in the job market, says industry body Nasscom.
Take the case of Vardhan Koshal, who worked with a startup for 18 months before starting his own firm, ridingO, last year.
Having initially worked in Citibank, Kosha, who always wanted to start a firm of his own, quit the company within a few months to join Martketelligent, a startup.
"I did not enjoy my stint in Citibank, and that is when I decided to apply in a startup. It was a refreshing experience as the entire team, including the founders, sat in one table. Any new initiative would be openly discussed, and I was given a open hand to do my work. In fact, I am mentally prepared to face a setback," says Koshal.
Many feel that the hands on experience one gets by working for a startup is unparalleled and cannot be matched by working in a conventional organisation. "Working for a startup includes getting your hands dirty in various different ways in your discipline, as well as gaining exposure to all areas of the business. If you are a technical person, chances are you will end up doing not only everything technical, but also see a bit of what the founders do – fund raising, sales, marketing etc," says Saurabh Goel, who is working for a startup called Windsleeve.
Ganesh Shankar, who started his own firm in 2011, quit GE to work in a small startup. "For me, it has been a great learning experience. I learnt how to hire talent, which can be difficult for startups. I am a technical person and did not know much about marketing. I learnt even that while I was working in a startup," says Shankar, co-founder of FluxJen.
However, entrepreneurs say that one should be ready to face setbacks as working in a startup does not guarantee instant success. "The biggest lesson I learnt is to take failures in your stride. One has to be motivated day in and day out as in the beginning, chances of seeing failures are higher," says Koshal.
In fact, one might be paid a salary much below the market rate. "It is difficult. Nothing comes easy. But, I guess entrepreneurs are people who are passionate about work, hence salary takes a backseat," says Vikas Singh, CEO and founder, PsiPhi.