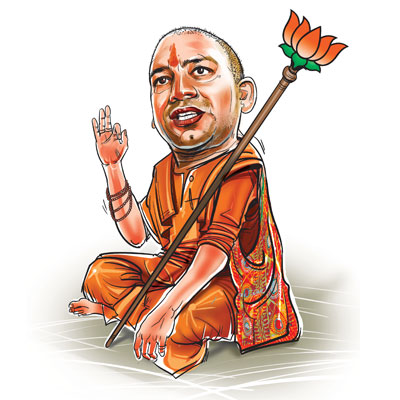 Photographs of gods and Lord Buddha adorn the walls of BJP MP Yogi Adityanath's office at the Gorakhnath temple complex. In a corner of the 70-year-old room, his staff members sit on the floor before typewriters drafting complaints ranging from a property dispute between two brothers to problems at the BRD medical College. It is here that Adityanath, a four-time MP from Gorakhpur, spends at least an hour every morning all through the year holding a janata durbar.
Outside the temple, the 42-year-old head priest who will set a record of being the youngest to get five consecutive Lok Sabha terms if he wins this time, talks of "taking ahead the fight for development and Hindutva". But, he does not aspire for any role for himself if the BJP comes to power. "I work for a mission. We work as people's representatives for development," he told dna.
For the saffron-clad hardliner, Hindutva, a word BJP's prime ministerial candidate Narendra Modi has consciously evaded, is intrinsic to his political and spiritual life. "It ensures security for all and development... Security from gunda raj and any government's dictatorship," he says addressing a gathering outside the medical college late at night.
He talks of Japanese Encephalitis, which has been Gorakhpur's bane, problems of sugarcane farmers and the fertilizer factory as he takes on the SP, BSP and Congress. "We will not allow anyone to do injustice to the people of Gorakhpur," he promises.
Adityanath, an accused in Gorakhpur's 2007 riots, has clearly etched a place for himself in Eastern UP's politics. About Hindutva missing from Modi's discourse, he says "see the manifesto, nobody shouts I am a Hindu."
To a question on priorities for the state, he says "addressing its identity crisis, ensuring victory in 2017 assembly polls and special package for UP."
Dwarka Tiwari, who has worked with him for 17 years, says "maharaj" as Adityanath is commonly called, begins his day at 3.30 am and first takes a round of the temple and goes to the gaushala. He then returns to his residence, which is above his office, and begins work at 8.30 am at the accounts office. After the janata darbar, he leaves on a mission to some village or another. Tiwari says over a thousand letters are written each day to address grievances.
The road from Azamgarh to Gorakhpur stands testimony to the fissures in progress but whether by tapping Hindu sentiments or resolving people's day to day problems, he has won over allegiance of a large section of Gorakhpur's electorate. Tiwari blames the road condition on the delay in release of funds. "Adityanath does not fight an election just ahead of it. He fights it all through five years," says Vijay Kumar Singh, who runs a hotel near the city.
Before Adityanath, the Gorakhpur seat was held by his guru Avaidyanath, who is now in his 90s. Adityanath, who came from Uttarakhand as Ajay Bisht, took sanyas at 23 and won his first election at 26. Only seven others have won an election four times in Uttar Pradesh.
However, his opponents attribute his successive victories to his communal politics. "He talks of Hindus and Muslims. He hasn't done any development here," says SP' candidate Rajmati Nishad.