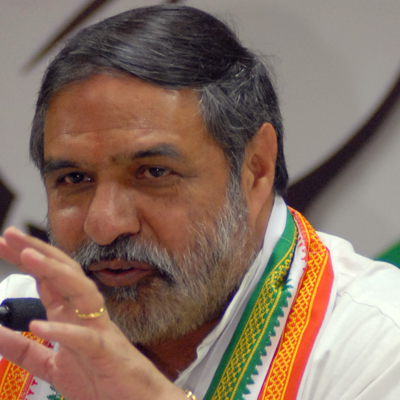 The Congress party is determined to prevent takeover by communal forces personified by one individual, the party said on Friday, virtually scotching speculation that Rahul Gandhi would prefer that the party sits in the opposition rather than stitch a coalition government.
"The question is hypothetical and premature. The numbers will be known when the results are out on the 16th. Congress is determined to prevent takeover of communal forces personified by one individual," party spokesman and Union Minister Anand Sharma told reporters.
He was asked whether the Congress was now preparing itself to sit in the opposition after the Lok Sabha polls with opinion polls predicting a Congress drubbing.
Sharma said the BJP and RSS have pumped in huge resources in the Lok Sabha elections and sought to create a personality cult.
He said the people have started listening to the Congress in the last few rounds of the polls. He said that the "mistake" on the part of the Congress was that it should have called to a halt long back the vilification campaign against the government which has done "good" work.
Dubbing the opinion polls that showed Congress not doing well as "doctored" and "fixed", he said that in the 2004 and 2009 elections too the Congress was projected as the underdog, but the results were different.
Finance Minister P Chidambaram had on Thursday said that the Congress had always given the call for unity of secular forces, indicating that the party would make efforts to rally all like-minded parties after the elections to keep Narendra Modi-led BJP out of power.