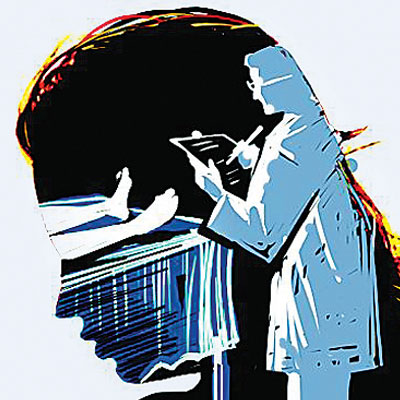 This week ended on a high note for women in India with Sumitra Mahajan unanimously being elected Speaker of the 16th Lok Sabha, becoming the second woman presiding officer of the Lower House after her predecessor Meira Kumar.
The 16th Lok Sabha has the highest number of women MPs since the first election in 1952, 61. It had the maximum number of women candidates, 668 and the highest women voter turnout in numbers. The Cabinet has maximum number of women ministers this time.
But there is a new low to this new high. In Badaun, Uttar Pradesh, two dalit teenaged sisters were raped and then hanged on a tree, there was an attempt to rape a woman judge in Aligarh and other instances in UP, a minor raped and killed in Bangalore, a girl raped at gunpoint in Mumbai, and a mother who was shot dead in front of her kids in Meghalaya when she valiantly fought an attempt to sexually assault her.
However, we can give benefit of doubt to newly entered women parliamentarians. But with women making huge strides in politics, will there be significant changes in the laws helping women and the crimes against women come down? According to a Lok Sabha Secretariat reference note to the Members of Parliament titled 'Crime against Women' which was tabled in 2013, there were 24,270 victims of rape in the country.
The statistics, however, show a different story. The states with women chief ministers have not particularly done well when it comes to tackling crime against women.
According to Delhi-based National Crime Records Bureau (NCRB), Tamil Nadu and West Bengal that are headed by women Chief Minister's have registered visible increase in crime against women. Even Delhi that was earlier headed by women Chief Minister Sheila Dikshit till last year, reported higher rate of crime against women.
NCRB data showed that during 2012 West Bengal reported 2,046 rape cases — the highest in the country. Mamata Banerjee took over charge as the first chief minister of the state in May 2011.
While Tamil Nadu registered a four per cent increase in number criminal activities against women, Delhi and West Bengal registered an increase of 14 percent and 6 per cent respectively.
Women's rights are human rights and they are being violated on a massive scale in a country with high aspirations on the international arena and which prides itself on being the world's largest democracy.
Today, Indian companies boast of a high percentage of women CEOs but women are missing in the field of law and order. Who else can understand the problems of a woman than a woman?
According to home ministry statistics, out of 15,85,117 personnel working in state police forces, only 84,479, that comes just 5.33 per cent are women. Besides, there are just 502 all-women police stations in the country out of a total 15,000 stations. The big state of UP has 71 all-women police stations while it has more districts. Uttar Pradesh has also dubious distinction of just 2,586 women police personnel which is just 1.49 per cent of the total 1, 73,341 personnel. The southern state Tamil Nadu has 196 all-women police stations.
The demand for more women in police forces has been growing since the December 16 gang rape case, where a 23-year-old student was brutally gang raped and killed on a bus in the national capital, Delhi.
After the December 16 gang rape case in 2012, a three-member Commission, headed by former Chief Justice of India, late Justice J.S. Verma which was assigned to review laws for sexual crimes submitted its report to the government during January 2013. The Commission had recommended comprehensive changes in criminal laws to deal with crimes and atrocities against women. He had called for fast track courts to deal with the issue of rape. As of 2013, Nitish Kumar led Bihar has the maximum number of fast track courts in the country, 183. Despite that many states have not been able to implement Verma committee report.
Is there a need of a social awakening and change in the attitude of masses, so that due respect and equal status is given to women? The new government has historic opportunity to deal with such crisis.