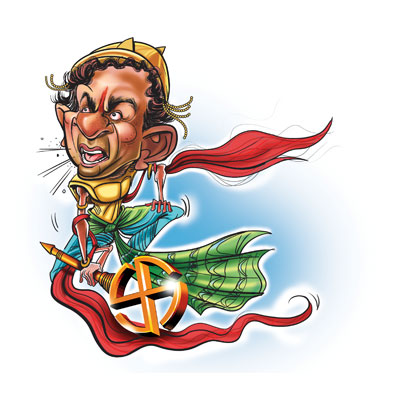 Telangana Rashtra Samiti (TRS) chief K Chandrasekhar Rao is tackling political attacks from all corners. He is has campaigned in 10 districts of Telangana in last ten days addressing as many as ten meetings a day and is responding to every criticism from all corners — from Congress chief Sonia Gandhi to TDP chief Chandrababu Naidu. Rao is contesting from Gajwel assembly and Medak parliamentary seat to keep the options of either ruling Telangana or to fight for its cause of the new state in parliament open.
At Station Ghanpur, about 120 kms from Hyderabad, addressing an election meeting, his third in the day, KCR talks to dna and opens up his heart. "I am being very honest. It is true that I met Rahul Gandhi, shook hands and also hugged him. I also met Sonia Gandhi with my entire family. It was an honor. I am grateful to them for giving Telangana. However, it is only after the elections I will reveal whether I promised to merge TRS in Congress or not."
What about the severe criticism about his acidic tongue? KCR just laughs and says, "I would not have come thus far without the strength of my speaking my mind."
Yes, KCR is not scared of anyone or anything. Regarding the recent threats by Congressmen that they will order a probe into his wealth, he says, "Investigation of any kind is welcome."
The TRS chief has been earlier elected to Lok Sabha from Karimnagar and Mahabubnagar. He also brushed aside all criticism for promoting his family — son KT Rama Rao, daughter Kavitha and nephew Harish Rao in politics. "Nobody said anything when my family was jailed and hauled up in court during the Telangana agitation. Why can not they become legislators," he says.
Both KT Rama Rao and Harish Rao are already MLAs whereas Kavita is debuting in electoral politics from Nizamabad .
He also pooh poohed all opinion polls and said TRS will emerge as the largest party in Telangana. In spite of all the opinion polls predicting doom for TRS, KCR says his party will get a minimum of 60-90 assembly seats in a House of 119 in Telangana. For parliament, he expects his party to win at least eight seats.