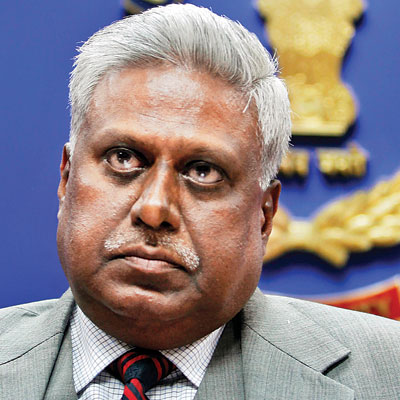 Controversial corporate lobbyist Deepak Talwar, who was named in one of the CBI preliminary enquiries registered in Nira Radia tapes case, has visited the official residence of agency chief Ranjit Sinha at least 63 times in the last 15 months.
Talwar, known for brokering telecom and aviation deals, has made 29 visits to 2, Janpath between May 2013 and December 2013, when the CBI was investigating the Nira Radia tapes, on directions from the Supreme Court. The visitors entry register maintained at 2, Janpath, accessed by dna, reveals that in 2014 till August, Talwar made 34 visits to the CBI director's residence .
Talwar mostly visited 2, Janpath in a car, DL-8C-AB-1499, registered in the name of Deepak Talwar Consultants, 4-D White House, 10 Bhagwan Das Road, New Delhi.
The latest visits Talwar has made to 2, Janpath was last month on August 2 and August 9. The duration of Talwar's meetings ranged from 10 minutes to 35 minutes and sometimes he visited the residence of the CBI chief twice in a single day.
The CBI had named Deepak Talwar, along with Radia and former civil aviation secretary Madhavan Nambiar, in one of its PE's probing the working of touts and middlemen and kickbacks in the aviation sector. Talwar's closeness to former aviation minister Praful Patel, seemingly helped him transform into a big player in the duty free circuit.
According to the daily entry register, Talwar has also made visits in cars DL-3F-AV-0027, HR-26-BL-4622, HR-26-AV-4322, HR-26-BG-0216, HR-26-HB-3436 apart from others. The names of Deepak Talwar has been mentioned in the entry dairy as Talwarji, Deepak Talwar, Talvar, Deepak Talwar1 in both English and Hindi.
In 2010, investigating agencies found that Talwar was instrumental in getting all the clearances for telecom company Telecordia from various agencies and departments despite objections on the grounds of security. MNP Interconnection Telecom Solutions India Pvt Ltd — a joint venture between Telecordia and India's Deepak Talwar Consultants Pvt Ltd (74-26% share value) — is one of only two companies that had been licenced to implement Mobile Number Portability.
Deepak Talwar Associates Consultants Private Ltd has several other companies like IDFS Tradings Private Ltd, with services like in-flight retail, warehousing and logistics, airline amenities and airport duty-free shops.
IDFS has a joint venture with Aer Rianta for duty-free shopping in the new terminal at Delhi International Airport. Talwar's company also has a joint venture with SSP, the international group that operates restaurants, bars, cafes, food courts and convenience stores in airports, rail stations, leisure venues and onboard trains across Europe, Asia Pacific and North America.
SSP Catering India Pvt Ltd won food & beverage concessions at the Delhi International Airport and operations commenced in June 2008 at Hyderabad and in T3 in Delhi.
Talwar is believed to have come into prominence in early 1990s, when he allegedly used his closeness to top bureaucrat AN Varma to facilitate FDI approvals.