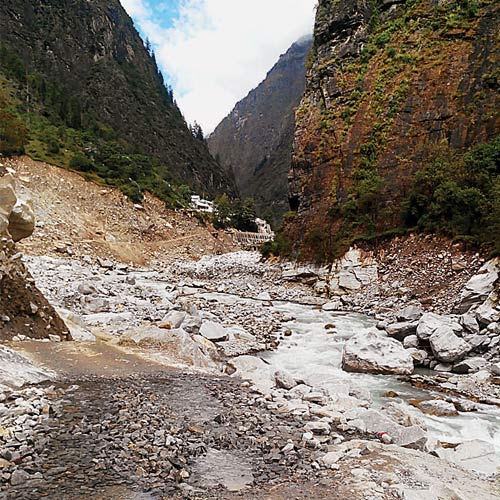 A year after a devastating deluge ravaged several parts of Uttarakhand, the state government has come under criticism for not framing a policy for the state to deal with natural calamities.
While environmentalists are of the view that there should be a separate policy for the development of Himalayan states, a state minister called for tough disaster management laws. "Despite being highly vulnerable to natural disasters, Uttarakhand has never worked on a plan to deal effectively with natural calamities and needs to immediately have an elaborate disaster management policy to increase its preparedness for future disasters," a senior minister in Harish Rawat's cabinet said, requesting anonymity.
An unprecedented natural calamity struck Uttarakhand on this day last year killing hundreds of people and leaving thousands missing who were later presumed dead. Though the scale of last year's calamity was unprecedented, excess rains, cloudbursts, landslides and floods are not new to the state, occurring in varying degrees annually for the past five years, the minister said.
Considering the state's high vulnerability to natural disasters, ruling and opposition parties, in consultation with experts, must work on having an elaborate and integrated disaster management policy, he said.
Noted environmentalists Sunder Lal Bahuguna, Anil Joshi, and Avdhash Kaushal are one in their view that there should be a separate policy for the development of Himalayan states, a matter that was in sharp focus at the time of the calamity last year. "A separate policy for the Himalayan region had come into focus even during Rajiv Gandhi's tenure but unfortunately nothing came out of it," Kaushal said. "Countries like China and Bhutan have strode ahead of us in hydro-electricity sector despite Uttarakhand's tremendous potential in terms of hydro-power. This is because we don't have a separate Himalayan policy defining the path to the region's development by tapping its resources but not at the cost of its fragile ecology," he said.
He also said it was unfair to blame the hydel projects of Uttarakhand for last year's tragedy as was being done by some groups with vested interests.
Underlining the need for a separate Himalayan policy, Chipko leader Sunder Lal Bahuguna said small hydel projects should be preferred. "Instead of big dams and mega hydel projects, we should go for small hydel projects and there should be a clear-cut Himalayan policy defining this," Bahuguna said.
Another noted environmentalist Anil Joshi said a separate Himalayan policy should have been in existence by now. Joshi said he will soon embark on a countrywide march to create awareness among people about the problems faced by the Himalayan region. When contacted Chief Minister Harish Rawat's media in-charge Surendra Kumar said the state government was sensitive to issues confronting the Himalayan region including its vulnerability to natural disasters and soon something will be done about it after proper discussions.