Uttam Khobragade will fly to the US to meet daughter, says maid threatened and blackmailed Devyani.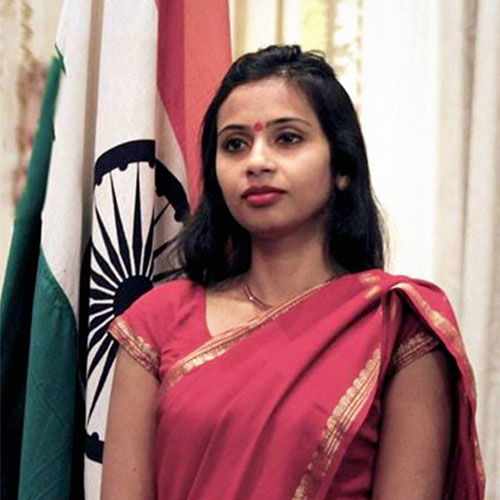 Indian Foreign Service (IFS) officers don't want a plum US posting anymore as the Devyani Khobragade incident has worsened their fears that they might land in unnecessary trouble in the US.
Khobragade, Indian deputy consul general in New York, was arrested on Thursday morning for an alleged visa fraud. She is accused of not paying her babysitter $4,500 per month as mandated under the US law.
Though the US on Saturday expressed hope that bilateral ties won't be affected, IFS officers are not keen on taking up a posting in the US. Such is the scare that since 2011, at least three junior level IFS officers appointed to man missions there used every resource to cancel their appointments and preferred posts of much lower stature.
The US posting was once viewed as a prized one in the ministry of external affairs. And officers used it as a significant milestone to promote their career. Besides an embassy in Washington, India has five missions in the US.
Senior diplomats say Khobragade's arrest violates the Vienna Convention. And the timing is shocking — only a day after Indian foreign secretary Sujatha Singh concluded her highly successful Washington trip — and has caused a major diplomatic crisis between the two countries.
Another diplomat pointed out that India-born Preet Bharara, US attorney for the southern district of New York, has been repeatedly targeting the Indian mission for some unknown reasons.
This was the third such incident in a row at the Indian consulate-general in New York. In the past, Krittika Biswas, the school-going daughter of an Indian diplomat, was arrested, handcuffed, and thrown in a lock-up despite holding an Indian diplomatic passport.
"Whether Khobragade, 39, was violating labour laws is the question being adjudicated by the judiciary. Without going into the merits of the case, the way she was handcuffed and her daughter left to fend for herself has no justification, even if she were to be just a common citizen leave alone a diplomat enjoying immunity," a senior IFS officer told dna.
The main charge levelled by the US department of justice was that Khobragade had electronically submitted to the state department that she would be paying $4,500 per month ($9.75 per hour) to her domestic assistant Sangeeta Richard. She is accused of making Richard sign a second contract later, reducing her salary to Rs30,000 ($3.31 per hour) a month. The charges if proved invite a sentence of up to 15 years in jail.
The scare among diplomats has already sent warning signals that the posts in the US, believed to be a super power, would now be manned by persons of lower calibre.
Explaining the high-handedness of the US, IFS officers say the US has demanded an agreement with Afghanistan's Hamid Karzai government that their personnel left behind after the 2014 troops withdrawal cannot be tried under the Afghan law. In case of any felony, they will be tried back in the US.
In 2011, one CIA operative named Raymond Davis killed two Pakistani civilians at Lahore. President Obama and Hillary Clinton identified Davis as US "diplomat" and managed to set him free from prison.
Indian officials say Americans are putting restrictions on visas and making it difficult for diplomats of developing countries to bring non-diplomatic staff from their own countries.
Diplomats rue the fact that India has at times gone overboard to accommodate Americans. But the US state deparment has never reciprocated the move.
As an example, they cite how foreign secretary Sujatha Singh went out of her way to convince the home ministry to clear a visa for a "pink partner" of an American gay diplomat posted in New Delhi — this at a time when homosexuality is prohibited under Section 377 of the IPC.
Father to go to the US: Retired IAS officer Uttam Khobragade has decided to fly to the US early next week to give moral support to his daughter Devyani Khobragade, adds Sudhir Suryawanshi from Mumbai.
Khobragade told dna on Saturday that Devyani should be protected under the Diplomatic Relation and Immunity Act 1967, clause 41. "Devyani should not have been arrested because she enjoys diplomatic immunity. The Indian government is very much supportive. Ministry of external affairs officials have assured me that they would ensure justice is done to my daughter," he said.
Khobragade is former general manager of the BEST Undertaking and lives in Andheri.
He said they made a "big blunder" by hiring Sangeeta Richard and taking her to the US. "We wanted to help her. Instead, we are at the receiving end. My daughter is suffering for absolutely no fault of hers. We had obtained the government official passport for Sangeeta. As long as she is working as a maid, she can hold that passport and stay in the US. But she wanted to settle down in the US by getting a green card. So, she asked Devyani to get her the normal Indian passport.
"When Devyani turned down her demand, she started threatening and blackmailing her. She demanded $10,000 and a normal Indian passport. She threatened Devyani by saying she would file a harassment complaint against her. Devyani told Sangeeta that it was not in her hand to get her a regular Indian passport. She even offered to get her a return ticket to India. But, she would have none of it."
Khobragade said as a precautionary measure, Devyani emailed me a complaint against Sangeeta. "On the basis of that, we filed a complaint against Sangeeta in Delhi in June 2013.
Since then Sangeeta has been absconding."
He said this is not a case of fraud. "It can at best be a case of breach of contract. But the US authorities are going overboard and harassing my daughter. This is racist. There must be some bigger conspiracy behind this. My daughter has been made a scapegoat."
Devyani Khobragade was released on a $250,000 bail after she surrendered her passport so that she can't flee the country.