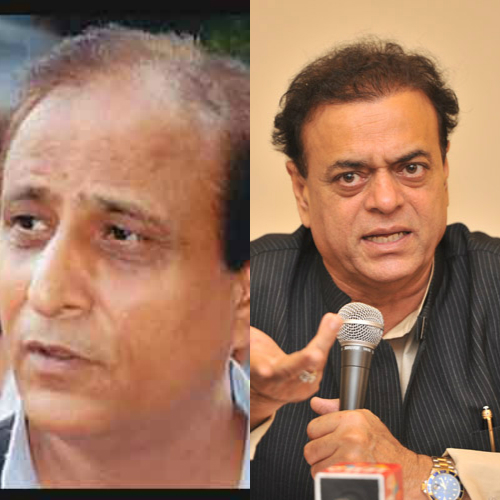 Inciting Communal sentiments to garner votes seems to be the agenda this electoral season as many leaders are taking this route. The latest in this brigade is Abu Azmi, who made a comment that Muslims should vote solely for Samajwadi Party (SP). Taking the dig further, he added that Muslims who do not vote for his party are not "true Muslims".
"A Muslim, who does not vote for SP and talks against it is not a Muslim. His DNA test should be conducted. See whether he is from RSS," he said while addressing an election rally in support of SP candidate Bhalchandra Yadav at Khalilabad.
"I want to say that he cannot be a true person. What SP supremo Mulayam Singh has not done for them (Muslim community)," Azmi, who is the Maharashtra unit chief of SP, said.
Prior to this, Azmi, had made controversial remarks that "women having sex out of wedlock should be hanged".
Taking a religious stand, Azmi had defended his sexist remark, saying "Islam respects women the most, so as I am the father of five daughters. Only an insane person can say that hang the rape victims," he said. He added, "In fact, it was our party, which supported Phulan Devi, helping her to come out of jail and to get her elected as the Member of the parliament." Phulan was the bandit queen of Uttar Pradesh who took to guns after she was gang-raped.
The remark is not only communal and bifurcates the general public on grounds of race, religion and caste, but also questions Azmi's ethos for bringing up such topics during elections. He is known to make absurd comments to keep his party in focus during elections, including, 'Women having consensual sex should be hanged', and now the 'Muslims should vote only for SP' comment.
Whether the Election Commission takes cognisance of this hateful speech or not, Muslim voters need to rethink about their leaders. As India enters the 67th year of its Independence, leaders need to think about the values and virtues that our freedom leaders had spoken of and imbibed while struggling for the country's freedom. Instead of reflecting on that, many of today's political leaders have taken elections to a communal platform. Some parties flash their 'Hindutva' agenda with elan, while others say Muslims should be communal while voting.
Earlier instances:
The Aam Aadmi Party's Shazia Ilmi was found asking muslim leaders to be communal in a video.
Clarifying her allegedly controversial remarks that Muslims should become "communal" rather than secular, Ilmi had said she had made a sarcastic comment which actually meant people should "think about the community".
"There is a difference between 'communal' and 'sectarian', she had added.
Read: Azam Khan's foot-in-mouth statements about the Election Commission
Another SP leader, Azam Khan, also took to making communal comments in his speeches. His statements included stating that the Kargil war was won because of sacrifices by Muslim soldiers. He had said, "The peaks of Kargil were conquered not by Hindu, but Muslim soldiers."
The opposition accused him of dividing the Indian army over caste and religion. The EC took congisance of this and demanded a CD of the speech.
Khan had again stirred a controversy when he refused to accept his fault over this comment and said, "I did nothing wrong and I won't apologise to the Election Commission", after which the EC had banned him from addressing public meetings.
In a second run-in with the Election Commission on Thursday, Khan added that the EC is not the god of politics. He further added, "EC is not god and they can ban me if they want from the Uttar Pradesh assembly." Read: Azam Khan defies Election Commission, says they are not the 'God of politics'
Both Samajwadi Party leaders have managed to communalise elections time and again with their statements. They use the rhetoric of 'victimised community' and play the communal card to garner votes. In a democracy as large as India, communalism divides different sections of the society and brings in disharmony, and political parties have been playing this card for long.
Now, the onus lies with voters to decide and select leaders who will keep aside the communal card and focus on growth and inclusive policy rather than the policy of 'divide and rule'.