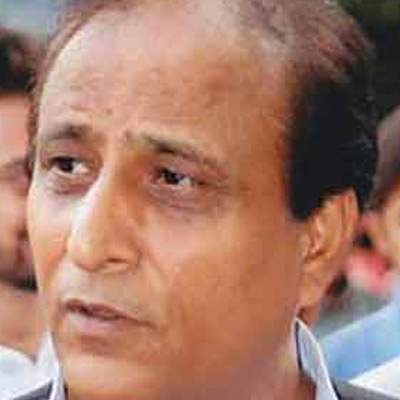 Samajwadi Party leader Azam Khan, loves the limelight and he makes sure he is in news almost every week for some or the other comment he makes.
With the Lok Sabha Elections in full swing, the minority affairs minister of Uttar Pradesh has made headlines quite a few times for his foot-in-mouth statements.
In a meeting in Ghaziabad earlier this month, he commented on the Kargil wars and said, "The perks of Kargil were conquered not by Hindu, but Muslim soldiers." over which the opposition accused him of dividing the Indian army over caste and religion. The EC took congisance of this and demanded a CD of the speech.
Khan stirred controversy on Friday when he said he did nothing wrong and questioned why he should apologise to the Election Commission, after the EC had banned him from addressing public meetings after the controversial remarks about the Kargil wars.
After the ban, Khan defended himself saying ""Expressing oneself is within the framework of law and it is my right to speak the right thing. I have only talked about sacrifices. Whatever injustice happened, I have only spoken about that. I have not said anything other than facts. I have not threatened anyone. It is not my nature to threaten anybody," Further defending he also said that using Muslim soldiers was a strategy of the Indian Army to trick the Pakistan Army.
He also went on to say, that like the CBI even the EC is under the influence of the Centre after cases were filed against him for making hate speeches.
Not stopping there, he lashed out against the Election Commission saying it did great injustice to him and that he was "hung" without a trial. He said "Even after my reply sent to the Election Commission before its notice the EC did not even bother to see my reply and did not allow me to present my explanation, so the EC declared action against me beforehand which was against natural justice, hence they must accept their fault. Atleast the English did a complete trial of Bhagat Singh before punishing him, but in my case without trial I have been hanged"
Khan has made many such statements for which he received widespread criticism. At a public rally in Badaun, Uttar Pradesh on April 10. He caused embarrassment to SP chief Mulayam Singh Yadav over Kashmir being a part of India, when he said that there was only one minister in the Union Cabinet, referring to Gulam Nabi Azad, and said "Only one Muslim minister is there in the (Union) Cabinet and that too not from India, but from Kashmir. That Kashmir, which is still controversial and we don't know whether that is part of India or not..."