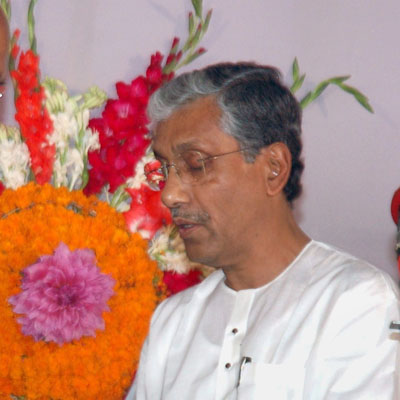 Charging Trinamool Congress with throttling democracy in West Bengal by intimidating voters, Tripura Chief Minister Manik Sarkar today said the Left will do better in the state if polling is done without any fear.
He also said that TMC's dream to create a base in Tripura "will never be true."
"Democracy is being throttled in West Bengal by Trinamool Congress. In three years of their rule, 145 Left leaders were killed, 44,000 Left supporters were forced to leave their homes and our organisational structures were burnt to ashes," the CPI(M) Politburo member alleged.
People were being threatened to shift their political allegiance and could not vote in a free and fair manner during the panchayat elections also, he alleged.
"However, we are seeing a positive sign. People have started reacting to the call of alternative forces. The silver lining is that, if people come out to vote without fear, then we will perform much better than the last Lok Sabha elections," Sarkar told PTI in an interview.
On post-poll alliances with parties, the senior CPI(M) leader said the Left was open to non-Congress and non-BJP parties, including with Arvind Kejriwal-led Aam Aadmi Party (AAP).
AAP has not made its stand clear on a variety of issues like privatisation and communalism, Sarkar said.
"They (AAP) are not against Capitalism, but against crony capitalism. They are against Ambanis, but not others. They have not cleared their stand on FDI and privatisation of banks, insurance, education and healthcare sectors. They have not cleared their position yet. "Despite that, if they want to join us, they are most welcome. They are attacking BJP and criticising Congress...all secular, democratic and non-communal parties will sit after the results and decide on a future course of action," he said.
On the Left's expectations from the ongoing Lok Sabha elections, the Tripura Chief Minister said the party expects to do better across the country than the 2009 elections.
"We are getting a very good and encouraging response from the people. They are understanding our view that both Congress and BJP have the same economic policies and are corrupt. This election is going to have a far reaching impact," he said.
Sarkar, who is dubbed as the poorest Chief Minister of India, declined to put a number on how many seats CPI(M) and the Left was expecting this time.
CPI(M) had won its all-time high of 44 seats in the 2004 Lok Sabha elections, but performed poorly in 2009 and bagged only 16 seats in the Lower House of Parliament.