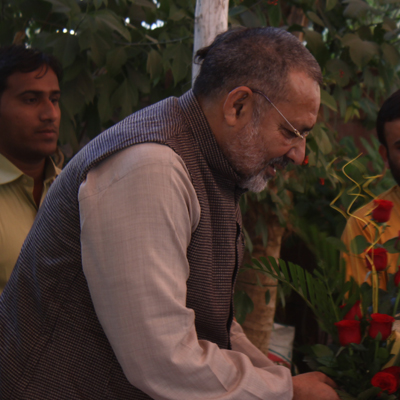 BJP leader Giriraj Singh, under fire for his controversial remark on critics and opponents of Narendra Modi, today faced a third FIR, saying it was slapped on him despite his reply to Patna district adminsitration's notice within the stipulated time.
The FIR was lodged against him at the Airport police station last night though he had replied to the notice within the stipulated 24 hours, Singh told PTI on Tuesday.
The BJP leader, who is facing flak from various quarters including his own party, alleged that the officials at the district collectorate did not give him any acknowledgement slip for his reply by fax and e-mail. "I will defend myself in court."
He charged Patna district officials with colluding with the JD(U) and claimed that he was framed under a "conspiracy" hatched by the Nitish Kumar government.
Singh hit out at JD(U) national spokesperson K C Tyagi for allegdly 'singling' him out for attack over his remarks that critics and opponents of Modi should go to Pakistan, but maintaining 'a cowardly silence' on the hate speech by Samajwadi Party leader Azam Khan and JD(U) leader Shakuni Chaudhary, who had reportedly threatened to eliminate Modi.
Sticking to his guns that he had not violated provisions of the Model Code, Singh said, "I have not breached the provisions of the Model Code in place for the general elections in whatsoever manner to warrant criticism from all quarters and lodging of FIRs against me."
Singh said in his reply to the show cause notice that he has categorically denied violating provisions of the Model Code in his statement at Deogarh in Jharkhand.
He said he had repeated the same later to the media in Bihar.
"At no point during my speech in Deoghar did I make any personal attack on any adversary nor did I ask the voters to vote on the ground of caste, creed and religion," the senior BJP leader and a former minister in the Nitish Kumar government said.
"I also never tried to abet communal strife by seeking to put one community against another at any point during my speech and bytes to the media," he said adding he was being 'unnecessarily penalised' for violation of the model code, which was 'unwarranted'.
Trashing the charges against him as baseless, Singh claimed that his remarks were 'twisted out of context' to make a case against him for stoking communal strife under the provisions of the Model Code.
Two FIRs were lodged against Singh on April 20 at Deogarh, where he made the controversial comment and at Bokaro yesterday. The one filed last night by the Patna district administration was done at the behest of Election Commission after Singh failed to reply to a showcause notice within 24 hours of repeating the same remarks at the Patna Airport on April 20.
Singh has been criticised for his comment by political parties, including BJP to which he belongs for saying that opponents and critics of Narendra Modi should go to Pakistan.
The BJP prime ministerial hopeful had himself said he disapproved of any irresponsible statement.