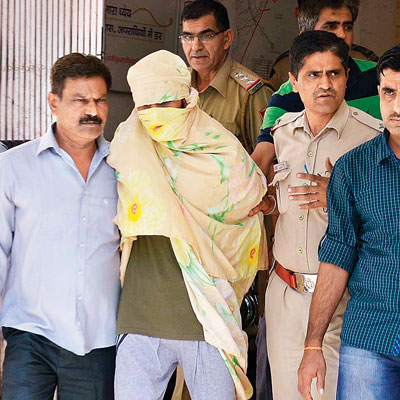 Ammar Yasir, detained by special cell along with his friend Abdul Wahid, in connection with the Indian Mujahideen module busted in Rajasthan flew for pilgrimage to Mecca on Monday morning.
The detention of the duo had triggered protests in Jamia Nagar area of south east Delhi on Sunday, who were released on Sunday night at around 11:30pm.
According to investigators, one of the suspected IM operatives arrested in Jaipur, Mohammad Waqar Azhar, who is pursuing engineering degree from Global Institute of Technology in Jaipur, shared the flat of Yasir.
Police has allegedly recovered a huge cache of explosives from the flat.
On Satruday, Yasir, was staying at his friend's rented accomodation in Abul Fazal Enclave of southeast Delhi, as he was on way to perform Umrah, holy pilgrimage to Mecca and Madina in Saudi Arabia. His flight was scheduled on Monday. His friend Danish was not in the capital and thus Yasir had asked his another friend Abdul Wahid to help him in packing and buying some stuff for the travel.
"Around 10 to 12 police officials in civvies came to our house at around 7am on Sunday and started searching without any document or permission. They were carrying photograph of Yasir," said Rehan Fehmi, caretaker of the house. Then the officials asked the duo to accompany them along with their luggage. "They cooperated and went along with them, while I immediately informed local police," adds Fehmi. Police had also detained another youth Meraj from Jaipur and later released him as well along with Yasir and Wahid. However, officials denied that third detention was made. Yasir and Wahid were questioned for more than 15 hours at Lodhi colony office of special cell.
"Yasir told me that police officials did not hurt them physically, but questioned in detail about his flatmate, daily routine and aquaintances in Jaipur," said Fehmi. Wahid also contacted his lawyers immediately after being released.
"As of now we didnot find anything on them. It seemed that Yasir has no idea of the activities of Waqar," special commissioner (special cell) S N Srivastava.