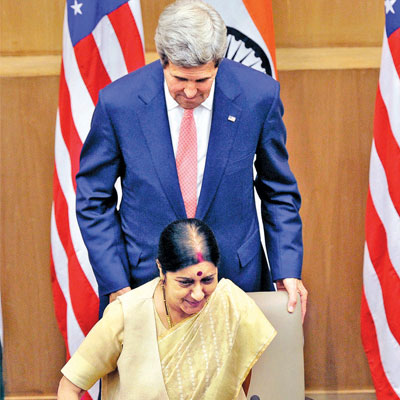 India on Thursday bluntly told the US that surveillance of political leaders and others in India by the American intelligence was "unacceptable" to which the US responded by saying that any differences that may exist can be resolved by intelligence communities of the two countries.
This emerged after marathon talks between visiting US secretary of state John Kerry, the highest-ranking dignitary to visit India since the installation of the Modi government, and external affairs minister Sushma Swaraj here. The two sides discussed key issues like trade, defence and energy.
At a joint press conference tonight, Swaraj was asked if she had raised the issue of surveillance of BJP leaders in 2010 by the US National Security Agency (NSA), as was made public recently on the basis of revelations of former NSA contractor Edward Snowden.
Swaraj replied,"I raised this issue with secretary Kerry. I told them that when this news appeared in Indian papers, Indians were agitated and they had expressed their anger too. I even told him that both countries consider each other as friendly nations and it will not be acceptable to us from any angle if one friendly country spies on another friendly country. This is unacceptable to us."
Kerry, however, said: "We value our relationship with India, our bilateral relationship...we also value sharing of information between each other regarding counter-terrorism and other threats to both of our countries... Usually, we try to have our intelligence communities work to resolve any questions or differences that may exist. We will continue to work actively with India wherever we see a threat to our shared interest and we fully respect and understand the feelings expressed by the minister."
The meeting that marked the 5th Indo-US Strategic Dialogue on Thursday witnessed an intense US effort to understand and woo the new administration in New Delhi even as both tried to determine deliverables on table when PM Narendra Modi travels to US in September to meet US president Barack Obama.
"US and India can and should be indispensable partners of the 21st century. Of course delivering on potential is the key. Words are easy it is the actions we need to take that would really define relationship in days ahead," said Kerry.
Kerry said though bilateral initiatives will continue it is important to put "specifics" on table for PM Modi's trip to Washington to meet president Obama. "I think we share a clear understanding of where we can begin," said Kerry while repeating Modi's mantra 'Sab ke saath sab ka vikaas' in Hindi.