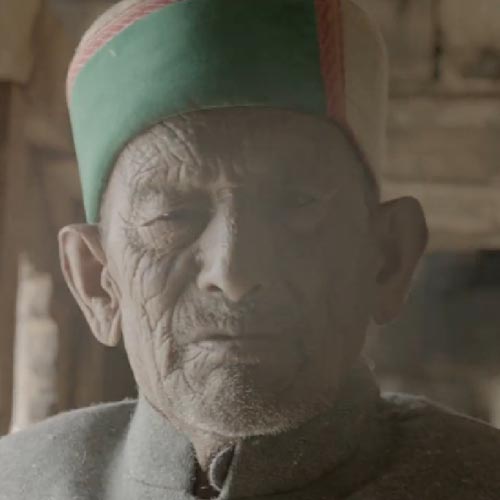 He is a voter like none other. Shyam Saran Negi, 97, one of the oldest voters in India and a believer in democracy since 1951, has never abstained from voting and advises people to cast vote for "those candidates who can generate jobs and provide essential services".
Negi, whose musical video appeal posted by Google India under its Pledge To Vote campaign is quite a hit, said there is a seachange in the country's politics.
"We should vote only for those candidates who can generate jobs and provide basic essential services like clean drinking water, electricity, education, healthcare and infrastructure like good roads and public transport," Negi, who is settled in this picturesque village in Kinnaur district, told IANS Tuesday.
But Negi and his wife Hira Mani, 91, refuse to reveal to which party they are going to vote. "This is something personal. We have yet to make up our mind," say the elderly couple.
But throughout their life the couple have never abstained from voting.
"I have exercised my right to franchise in every election, be it general, state assembly or panchayat. One should not refrain from voting even if the weather is hostile or your health is not perfect. Now you have NOTA (None of the Above) option too," added Negi, eagerly awaiting the polling day in Himachal Pradesh May 7.
Retired as a junior basic teacher from a government school in 1975, Negi was among the first to vote in independent India's first Lok Sabha battle in October 1951 in the Chini constituency - later renamed Kinnaur.
At that time, balloting in the snow-bound area was held ahead of other places in the state and the country.
Kalpa village is part of the Mandi Lok Sabha constituency, which includes Kullu and Mandi and parts of Chamba and Shimla districts besides the tribal-dominated Kinnaur and Lahaul and Spiti. Their village is at an altitude of 10,000 feet and some 275 km from the state capital.
The Congress has pitted two-time MP Pratibha Singh, wife of Chief Minister Virbhadra Singh, against Bharatiya Janata Party (BJP) candidate Ram Swaroop Sharma from the Mandi constituency.
Lying on a cot in his house, Negi said: "Today's politicians are sheer wasting precious time of Parliament by preferring to create ruckus inside the house. We should send only those people who can spare time for serious discussions in Parliament and have some vision besides his or her allegiance."
He is impressed with BJP's prime ministerial candidate Narendra Modi.
"Modi is not only a 'vikas purush' or a development-oriented man but also a 'loh purush' or an ironman," Negi told IANS.
He said in his personal opinion if Modi is voted to power he would steer the country towards development and get rid of corruption which has reached alarming proportions.
"From the first Lok Sabha election, to this one (16th), there is a tremendous development in the country. But the corruption is making the country hollow," he said.
"At this point in time we need a man with 'loh purush' qualities to eliminate corruption," he said.
Watch the video here: As part of its #PledgeToVote campaign, Google India features Shyam Saran Negi—India's first and oldest voter