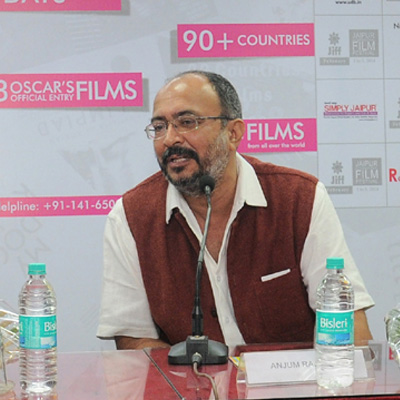 Anjum Rajabali, prolific screenwriter of films like Drohkaal, Ghulam, The Legend of Bhagat Singh and Raajneeti, has started an appeal to attract the country's attention to the importance of secularism.
Although the petition hasn't managed to receive much response from public, it has attracted the attention and support of many well-known writers, actors, directors and other such artists in Bollywood including Vishal Bhardwaj, Imtiaz Ali, Zoya Akhtar, Kabir Khan, Nandita Das, Shubha Mudgal, Mahesh Bhatt and Aditi Rao Hydari.
The ongoing elections have seen the nation being divided in their political opinions and the same is true for Bollywood.
Rajabali has admited to his disappointment over Narendra Modi's rule. "There seems to a be wave people are talking about...Narendra Modi represents a certain ideology," he says. "I am from Gujarat and I understand what kind of development there is and I understand the propaganda. There are very very serious questions which are consistently being raised but the voices are never being heard".
Those who have signed the petition include filmmakers Vinay Shukla, Kabir Khan, Kundan Shah, and Imtiaz Ali, actors Swara Bhaskar and Joy Sengupta and activist Teesta Setelvad and her husband Javed Anand.
In a telephonic interview, Rajabali explained to dna his views on politics, Bollywood and it's connection. Here's what he had to say:
What exactly is this appeal about? Why do you think it is so important?
For one, in private discussions and debates with colleagues and friends in the film industry, it became clear that we were all distressed with the ideology of secularism, so central to our idea of India, was vulnerable today. We could not imagine our country outside of its terrific diversity and the sense of belonging that these diverse people essentially feel because of this secular character of Indian society. Second, we noticed that secularism has disappeared from the public discourse today, as a factor in electoral choice. Hounded out by the abuse of 'psuedo-secularism' so easily heaped on anyone who is concerned about it. And, hence three, that this should be a factor when we vote. So, swayed have so many people got with the propaganda of development and governance, with the questionable 'Gujarat model', that they are thinking only within that framework, neglecting this most important factor. So, we thought of giving our concerns public expression.
It has received the support of a lot of famous writers, actors, directors, activists and other artists. What are your thoughts about the political ideologies of the people who are supporting this appeal?
The wording of the appeal actually reveals the common ground on which all of us stand. That we believe that the secular character of India is not negotiable. It should not be compromised. That we would like to support only that party, whoever it is depending on the individual choice of the voter, which has secularism as central to its ideology.
Why secularism?
Once again, essentially this that try to reflect on the concept of secularism, as you understand it, as you define it. And then, keeping that central in your mind, do seek out that candidate from any party that you perceive also has it as its central ideology, and vote for him/her.
In what way do you think young actors, writers and directors should propagate politics?
Actually, it is quite heartening that a lot of young writers and directors (especially) are allowing their political views and responses to find their way into their scripts. Of late, I have come across many scripts which are essentially political responses to the situation around them.​
I'm not recommending that they should propagate politics. All I'm saying is that they will be affected by politics, everyone is. And as a result they will respond to it. If someone wants to campaign for a particular party, that is her choice. It's a free country.
Do you consider that appropriate?
Well, their expression is cinema, so obviously they will use that medium to engage with any issue or anxiety that they may feel.
Don't you think artists should be apolitical?
No. Artists are citizens and human beings first and then anything else. It is to be expected that they will be affected by the situation around them. In that sense, every citizen is a political creature, affected, influenced and even controlled by larger forces. Hence, s/he will respond to that, with the tools and platforms available to him.
What message does the involvement of actors like Rakhi Sawant, Salman Khan and Amitabh Bachchan in politics send out on behalf of the whole industry?
I'm not sure that there is any message, as such that is being sent out by their involvement in politics. All it says is that they are exercising their choice as citizens to be affiliated to political forces.
What are your thoughts on current attitudes towards politics?
There is no unified ideology that I find the youth. Amongst them too, opinion seems to be as diverse as it is in other age-groups. I just hope that they inculcate the quality of reflection, of genuine inquiry, and an discerning ability to perceive the truth beneath the propaganda and spin-doctoring that parties throw at them. Voting is not a reaction; it is a response. And for that some political awareness and thought is essential.
What party do you support? Why?
Unfortunately, none. Right now, I'm only chasing ideas and ideologies, and hence voting choices too are by necessity complex and nuanced.
Apart from being a script consultant on several films, Rajabali also conducts workshops and seminars on screenwriting in India and abroad. The thing to look forward to is which way the appeal will take the Bollywood industry next. Until then, all we can hope for is that the appeal holds good, looking at the enthusiasm of this initiative made by Bollywood.