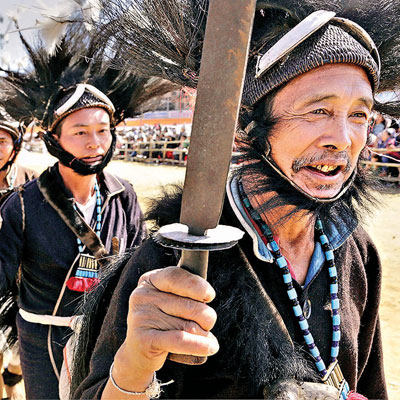 Nido Tania, the victim of recent racial attack in New Delhi, overshadowed all issues during the 28th statehood day celebration of Arunachal Pradesh here on Thursday.
Given China's frequent claim on Arunachal Pradesh, Tawang particularly, the annual celebration is often viewed by many as a platform India uses to send a message or two to its neighbor. But chief minister Nabam Tuki on Thursday used the occasion to make a strong case for the enactment of a tough anti-racial law.
"The death of Nido Tania in a racial attack was not an isolated incident. People from the Northeast are being increasingly targeted and discriminated against elsewhere in the country. This has to stop. We believe we can stop this by bringing in a strong anti-racial law," the chief minister said.
Son of parliamentary secretary Nido Pabitra, Nido Tania hailed from the state's Ziro town, 103 km west of Itanagar.
Tuki said the situation along the Indo-China border was very peaceful. "Some elements sometimes try to create nuisance. But the border currently is very peaceful," he said.
Last year there were reports about migration of villagers from the international border. Tuki attributed the migration to the availability of 'better facilities' in Itanagar and its surrounding areas.
With parliamentary election round the corner, the chief minister tried to woo voters by making an announcement to almost double the wages of skilled and unskilled labourers. His announcement comes a day before BJP prime ministerial candidate Narendra Modi's rally at Pasighat, some 135 km from Itanagar.
Labourers and their dependents make up one sixth of the state's 6.5 lakh voters.
Most of them are engaged in strategic projects in areas bordering China, Myanmar and Bhutan.
Wages, as meagre as Rs.70-Rs.80 a day, have been a cause of resentment among the labourers for long. The retrenchment of 7,000 labourers by Border Roads Organisation in Tawang recently had only added fuel to the fire.