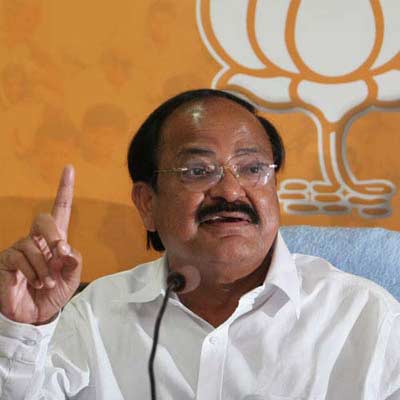 BJP today said there was no possibility of changing its Prime Ministerial candidate if the party did not get majority on its own and claimed there was no frustration among its leaders over not getting a ministerial berth if the party forms the government.
"There is a systematic campaign going on across the country by some people saying there are reservations that some people are not going to be accommodated and there is a possibility of changing the Prime Ministerial candidate if we do not get the numbers. These are interested, planted stories, They have no basis whatsoever.
"I am happy to clarify as former president of the party and member of the BJP Parliamentary Board that the decision to make Narendra Modi as the Prime Ministerial candidate was unanimous. There is no rethinking," BJP leader M Venkaiah Naidu said.
He brushed aside talk of "frustration" among its leaders on whether they will be accommodated in the next government if BJP is voted in power, he said to a question on speculation that BJP leader Murli Manohar Joshi had gone to meet RSS chief Mohan Bhagwat to complain on the possibility of his being left out of the next government.
"There is no frustration at any level. It is very clear
The party is capable of taking care of all its leaders at every level. Others cannot dictate to us," he said.
He downplayed Joshi's visit to Nagpur yesterday to meet the RSS chief saying "we all keep meeting the Sangh leaders and we meet the RSS chief also."
"Don't try to undermine Joshiji's competence that he is trying to complaint to the RSS," he said.
Naidu said "these are only speculation. These are only rumours. Don't go by rumours."