Congress too downplays talks of its ally's allianace with BJP.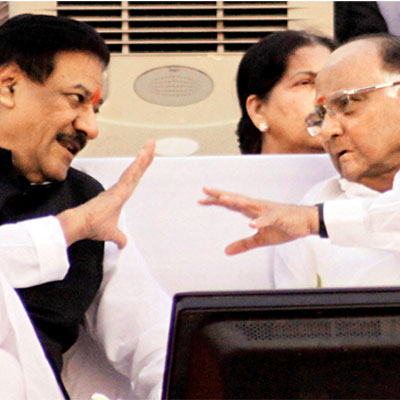 Nationalist Congress Party (NCP) chief Sharad Pawar and the Bharatiya Janata Party on Friday denied reports in a section of the press that the former had a secret meeting with the BJP's prime ministerial candidate Narendra Modi with a view to form a new political equation on the eve of the Lok Sabha polls.
"News of my meeting with Narendra Modi in New Delhi on January 17 appeared in a newspaper. (It) is completely mischievous, baseless & false," Pawar, who is also Union agriculture minister, said on Twitter. BJP's senior leader in Maharashtra Vinod Tawde also denied the report and called it "absurd". Pawar said, "During state visits or in chief ministers conferences in Delhi, I meet CMs and barring these occasions, never met Modi in the last one year."
Tawde said Pawar and his key lieutenant Praful Patel were "playing a drama" to blackmail the Congress to concede it more seats in the upcoming general polls. While the NCP contested 22 seats, the Congress fought 26 seats in 2009. However, the Congress wants its share of seats to be increased in view of the "changed political situation on the ground". It has staked its claim to seats like Kolhapur where the independent M.P. Sadavshivrao Mandlik is with the Congress. It also wants one of the two seats in Jalgaon district. The NCP, on its part, wants the Pune Lok Sabha seat.
However, reflecting the unease in Congress-NCP ties in Maharashtra and apparently preparing for a tough bargain, Patel said Congress has delayed the seat sharing talks for "far too long" and the party was losing patience. "It is not a good sign for the simple reason that elections are round the corner and all political parties need clarity on issues. Options for all political parties are open as long as they are very clear," Patel, a Union minister, told reporters. "But, we are losing patience because Congress is delaying alliance talks," he said, adding this was creating confusion. Patel had earlier created a controversy by stating that since Modi has been given a clean chit by the court, the issue of 2002 violence in Gujarat should be treated as closed. This statement had raised a huge furore within the ruling UPA.
Meanwhile, Congress downplayed conflicting signals from the NCP on the issue of alliance in the Lok Sabha polls saying that the two parties have been together for the past 15 years and suggested it could be tough bargaining over seat sharing."Every party has all options open. We have been together for the past 15 years," party spokesman Abhishek Singhvi told reporters. –With agency inputs