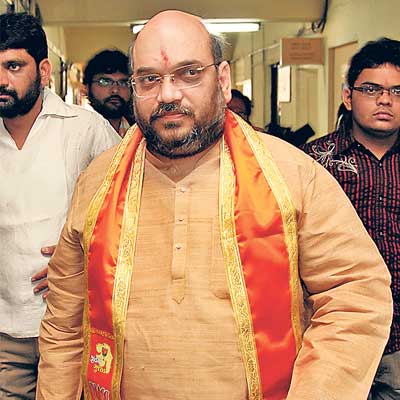 The centre has cleared the decks for Z plus security to prime minister Narendra Modi's close aide Amit Shah who is also one of the frontrunners for the post of BJP president.
Shah was the main architect of BJP's superlative performance in Uttar Pradesh in recently held general Lok Sabha elections and is considered to be high on the radar of terror groups like Indian Mujahideen (IM) and Lashkar-e-Toiba (LeT), especially after the Muzaffarnagar riots.
The decision came about in a review meeting on security to VIPs and vital installations taken by Union home minister Rajnath Singh. According to sources, Shah would be provided Z plus security by 36 black cats of central reserve police force (CRPF).
The meeting also reviewed the security of vital installations against the background of current developments in the Middle-East, Afghanistan and Pakistan and decided to beef up the security of all such installations, especially security of the less guarded Airports in the backdrop of the recent fidayeen attack on Karachi airport that killed 24 people.
According to Intelligence inputs, the ongoing holy month of Ramzan could be effectively exploited by some terror outfits to unleash terror attacks. The destabilising situation from Iraq to Pakistan might aide them, sources said.
The ministry has directed agencies to carry out security audit of vital installations, wherever due, and deploy additional forces wherever found necessary to ensure adequate security arrangements for such installations.
The home minister also asked the policy and planning division to review the budget provisions for making security arrangements and enhance them suitably wherever needed.