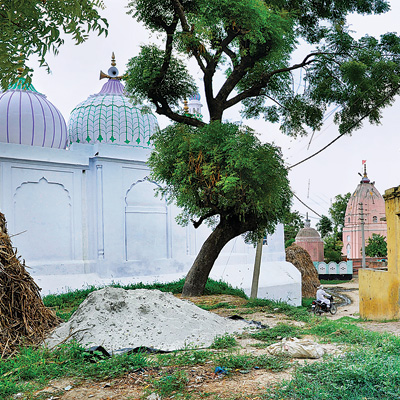 In Sarawa village of Uttar Pradesh, now infamous for alleged rape and forced religious conversion of a 20-year-old student, a steady stream of villagers was cycling on a meandering road. However, the prevalent peace in the village, tucked in middle of sugarcane fields, is prone to get punctured due to external influences. It is reflected from selected migration of women and children of Muslim community to safer areas in wake of the incident. The houses are locked with most of the men living in groups these days.
Even though majority of villagers refuse to fell pray to divisive rumor-mongers, they are anxious about the visits made by outsiders and developments taking place outside the village.
"Some incident may have taken place, but whole community cannot be punished for wrong doing of an individual or a group," said Harsharan Tyagi, 92, who claims that even in 1947, when communal violence was order of the day, only one person was killed in this village and he was an alleged thief. Tyagi, lives near Jama Masjid of the village located in front of the big temple. A few meters away lives Shanti Devi, 80, who was married in this village almost 65 years ago. "There is no problem between Hindus and Muslims. When two communities live together for so long, some aberrations are bound to take place. It cannot be used to paint the whole community as villain," Shanti told dna. She claims that she tried to stop some Muslim women and persuade them to not leave the village.
Earlier this week, BJP's UP chief Laxmikant Bajpai while referring to the incident had stated that there was definitely communal angle in this incident. Also, party's MLA Sangeet Som, one of the main accused in the Muzaffarnagar riots case that took place in September last, had mentioned that he would visit the village to take stock of the situation.
The village, a hamlet of squalid single or double-storeyed houses, as per the rough estimates has 55% Hindus and 45% Muslims. Most of the people depend on sugarcane farming and dailywage jobs outside the village.There are three madrasas, eight masjids, seven temples and one Eidgah in the village, nearly 90 kms from Delhi.
"We switch off our loudspeakers if Muslims have to say azaan and they switch off their loudspeaker if it is bhajan time," adds, Ravi, another local resident.
However, sustained communal flareups and subsequent acrimonious political explanations in wake of the incident has ingrained fear among locals. Besides, the presence of almost 100 police personnel including rapid action force patrolling in and outside the village for 24 hours since the incident came on light on August 3, has created an uneasiness in the village.
Since the incident was reported, political leaders from various political parties have visited the house of victim, who is currently at a specialized hospital in Ghaziabad. One of the state BJP members, Vineet Aggarwal gave Rs25,000 cash to the family of the victim on Thursday.
"We are scared. We fear that people from outside may hurt our families," said Shakeel Ahmed, whose family members has also moved out of the village.
Another delegation of local BJP and RSS members visited the house and were repeatedly mentioning Muzaffarnagar riots and 'persecution of Hindus.' Some incidents of minor stone-pelting and vicious sloganeering were also reported to police, which was tackled immediately.
The family as of now claims to be contend with the police investigations. "These criminals should be hanged. I want justice. But the issue should not be politicized," said mother of the victim, who has become weak and mostly lies on the cot through out the day.
The police as of now has arrested five people in the case including Pradhan of the village, Nawab Khan and are looking for Sanaullah, who allegedly has mainly conspired to convert the victim. The transvaginal ultrasound scan test of the victim would be conducted soon.
"I want justice. I was caught in a vicious circle," the victim, admitted at ICU of Ghaziabad hospital told dna. She was weak and couldn't turn sides on the bed on her own.