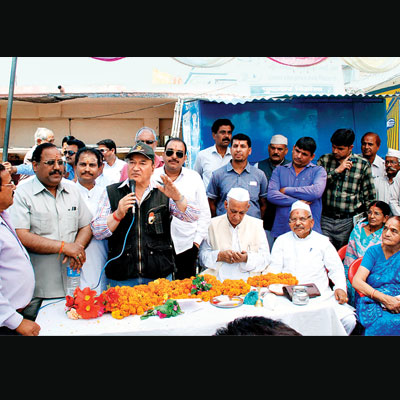 Nainital-Udham Singh Nagar Parliamentary constituency, which goes to polls today, is as diverse as it gets. Nearly 20% of its 16.02 lakh electors reside in the hills while the majority lives in the vast Tarai region. Besides, the constituency is home to a cauldron of people from different regions, castes, religions and even ideologies.
This seat traditionally witnesses a contest between the Congress and the BJP. But this time around, while the battle in the Hills is between the age-old rivals, the addition of three more candidates in Tarai has added spark to the contest. Voters in the Hill region, from Nainital to Kathgodam, will choose between the Congress' KC Singh Baba and the BJP's Bhagat Singh Koshiyari. Apart from these two, the BSP's Laeek Ahmad, the SP's Avataar Singh and AAP's Balli Singh Cheema are contesting in Tarai.
Hailing from the Chand dynasty of Almora kingdom, Congress' Baba faces a double trouble: anti-incumbency against his two terms and a general anger towards the Congress. In 2009, Baba had defeated BJP's Bachchi Singh Rawat by nearly 90,000 votes but this time, despite having a less formidable opponent in Koshiyari, who is fighting his first Parliamentary election, Baba faces an uphill climb.
Baba's rivals are closing in on him from all quarters. The BSP is trying its best to add Muslims to its existing Dalit support base. In addition, AAP's poet candidate, Cheema, is gaining acceptance among the Punjabis of Bazpur and in few pockets of Left and ultra-Left elements. Cheema's gain is Baba's loss. Besides, even though Koshiyari is not a strong candidate, the Modi factor can play against Baba. The BJP's prime ministerial candidate held a rally in Rudrapur recently, which saw a huge attendance. "A majority of the youth has flocked towards the BJP because of Modi. The situation has changed in favour of the BJP in the last five days," says Bishan Singh Rawat, a tea stall owner in old Haldwani. But the contest, says Rawat, will be tough as Koshiyari has less appeal than Baba in Tarai.
Activist and AAP sympathiser Sanjeev Bhagat points out that Koshiyari's prospect could take a hit considering the harvest season is on. Women are busy harvesting wheat in the fertile terrace farms of Nainital and may not find the time to go to vote, says Bhagat.
Like other Congress candidates in Uttarakhand, Baba too is depending on chief minister Harish Rawat's influence to help him get a chunk of Thakur votes. Rawat has not disappointed Baba by conducting half a dozen rallies in key pockets.
The only other good news for the Congress is that majority of the Muslims may not sway towards the BSP, and instead list towards the Congress to neutralise the Modi factor.
"In all probability, my vote will go waste if I give it to Laeek Ahmad as he is not in a position to win in this highly polarised scenario. Baba is the only viable option for me and many others," says Gulzar Quraishi, a meat vendor.