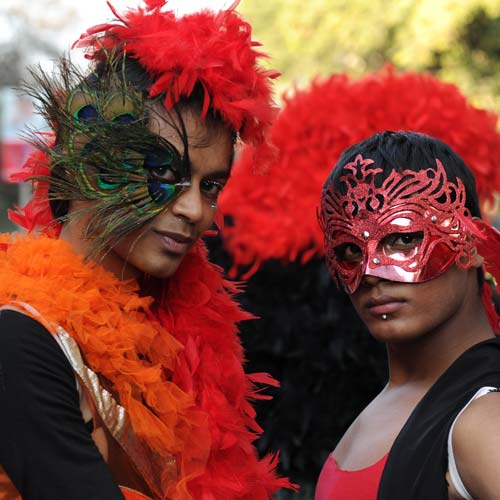 Thirty-year-old Sanjana and Shadab Hasan's (29) nikaah will be solemnised soon after Eid with the blessings of their families. Not only this, they will also get to raise Shadab's three-year-old niece.
Apparently, as reported by Hindustan Times, this looks like just another love story but what makes it unique is that while Sanjana is a transgender who dresses as a woman, and Shadab belongs to the Men Having Sex With Men (MSM) community.
While Sanjana is a counsellor with a community-based organisation (CBO) meant for transgenders, Shadab runs a transport company. Both families are from Bhopal.
In fact, Shadab was engaged to a girl and the arranged marriage was fixed for June 7. However, a little over a week before the marriage, the family changed their mind and accepted the relationship.
"They called me home to tell me they had accepted me as their daughter-in-law. Our families have met and preparations for marriage are on," said Sanjana.
In fact, Sanjana's brother, who was earlier disapproving of his sister's sexul orientation, also accepted the union.
Shadab added, "About 15 days after my parents accepted Sanjana, her brother, who had earlier thrashed her for her sexual preferences told her we could live according to our wishes."
The couple admitted "having been through a lot of emotional turmoil" during their nine years of courtship.
For Sanjana, the best part is the fact that Shadab's sister and brother-in-law "have also promised that we could raise their daughter, Shifa."
Ask Sanjana the reason behind their families accepting them and she thanks God in gratitude.
"We have always been rebuked by families, friends and relatives. As a teenager, I have lived and followed the traditions of transgenders, danced in gatherings and even travelled to far off places to fend for myself. Going to college was a nightmare and I visited my family only after it was dark. It seemed life was heading nowhere. But now it is all over," Sanjana added.
However, the neighbours are a little apprehensive about this turn of events. Though they don't react negatively in front of the family members, behind their backs they scoff.
Fortunately, Shadab's brother-in-law Saleem, a carpenter by profession and sister Nazma, were the ones who stood by the couple through thick and thin.
Nazma asserted that "their sexual preferences are different and we must learn to respect them. How can we shun our own sons and daughters because the society does not approve of them?