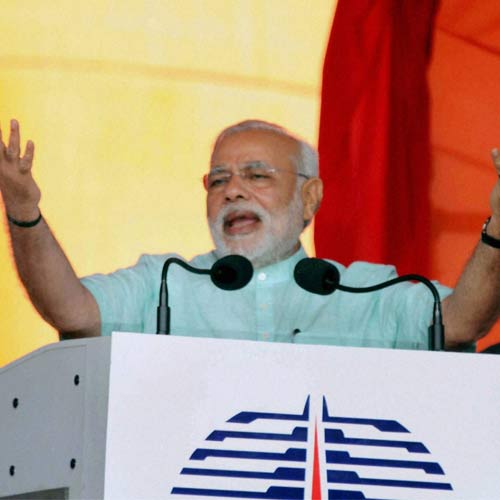 Prime Minister Narendra Modi on Wednesday, inaugurated a super thermal power project in Mouda, Maharashtra.
"If we are successful in creating better infrastructure the scope for development expands automatically," he said addressing the audience at the event.
"For any nation to develop, priority has to be given to infrastructure. If we have to bring change in the quality of life in rural India, electricity is the most important factor," he stated.
"Supply of electricity not only removes darkness, but also generates employment," he pointed out. "It is an effort by our government to utilise all sources for power generation and produce clean energy."
Touching upon the issue of farmer suicide, he said, "Nothing is more sad than the fact that farmers have to commit suicide. Farmers have said that because of the lack of power, not much is possible." He added that through the 'PM Jan Dhan Yojna' they could benefit the most.
"We also have a responsibility as the citizens of the nation to save energy," he urged "When electricity is saved, it helps the entire family and also the nation; the expenses are reduced."
"I request the citizens of the nation to have discussions within their families on how to save power," he said.
On the subject of corruption, he stated, "Corruption has ruined the nation. But if the entire nation join their hands together, corrupt people won't be able to do anything."
Earlier today, Modi inaugurated a 765 KV transmission line in Ranchi. Speaking at the event, Modi said "Jharkhand state has the capability to be among India's most developed states. Be it East or West, North or South, the development of India must be balanced. Avenues of development in the East must increase." Read more
meanwhile, Maharashtra CM Prithviraj Chavan said he would not share the stage with PM Narendra Modi on Thursday to inaugurate the Nagpur Metro. Chavan said Modi used the JNPT SEZ inaugural function at Navi Mumbai for election campaign. "The PM crossed the line by giving government functions a political flavour. This has been done repeatedly. So, I decided to skip the function in Nagpur. The BJP in Maharashtra on Thursday termed as "unfortunate" Chief Minister Prithviraj Chavan's decision to boycott Prime Minister Narendra Modi's programme in Nagpur and said Congress should introspect why people are "unhappy" with the state leadership.