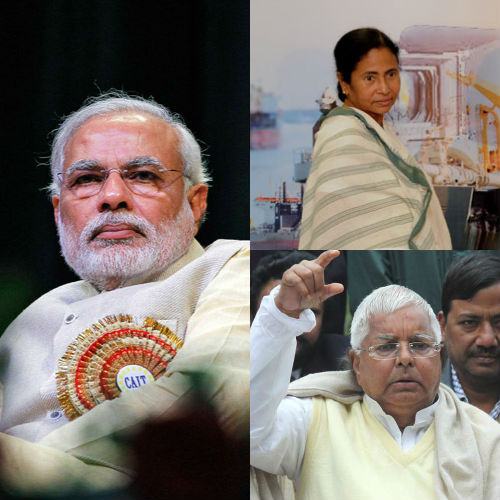 Rashtriya Janata Dal chief Lalu Prasad Yadav targetted BJP's Prime Ministerial candidate Narendra Modi by stating, "Even a butcher will be a better PM than Narendra Modi." Taking the slander futher he added, "Even a butcher would be ashamed to be compared to the BJP's prime ministerial candidate."
'Butcher' bhi sharmata hai Narendra Modi se-Lalu Prasad Yadav pic.twitter.com/DwIKM687z8

— ANI (@ANI_news) April 29, 2014
This came on the backdrop of Trinamool Congress chief and West bengal's Chief Minister Mamata Banerjee's party taking potshots at Modi and calling him the 'Butcher of Gujarat.
Read: Calling Narendra Modi 'Butcher of Gujarat' does not cleanse Mamata Banerjee's political sins
BJP was quick to defend its PM candidate against the jibe and BJP leader RS Prasad said, "What should I say on this? Maybe he can see defeat looming."
What should I say on this? Maybe he can see defeat looming-RS Prasad,BJP on Lalu's comment on Modi pic.twitter.com/MQxz998ogi

— ANI (@ANI_news) April 29, 2014
BJP spokesperson Nirmala Sitharaman had targetted TMC government for maligning Modi's image and campaigning against him. She had said that TMC wasn't expecting BJP's popularity in West Bengal to surge but Narendra Modi was able to pull out supporters in his rallies.
She had further added that this reverse in popularity had scared TMC leaders who were stooping down to low levels and tarnishing Modi's image.
As the Lok sabha elections reach the seventh phase, many non-BJP and non-Congress aligned parties have been targetting Narendra Modi and BJP.
Both Mamata Banerjee and Lalu Prasad Yadav have been a part of Congress before disbanding the UPA alliance and they have not targetted any of Congress leaders directly in their speeches. Though Mamata had blamed the Centre for West Bengal's administrative issues, she has refrained from taking on Sonia Gandhi directly.
Even Lalu Prasad Yadav. who is targetting a major chunk of muslim voters to win the elections has been targetting Modi in a bid to draw support from the community.
Will targetting Narendra Modi win votes for Lalu?
*Lalu Prasad Yadav who had a face off with Ramkripal Yadav (he joined BJP) has made his dissent clear against BJP. He made his daughter Misa Bharti contest from the same seat that once belonged to Ramkripal Yadav. Lalu has been trying to secure his muslim vote bank and attacking BJP.
Read: Lalu Prasad Yadav bets on Misa Bharti for survival
*In an earlier instance, Bihar chief minister and JD(U) leader Nitish Kumar had walked out of the NDA over the BJP decision to project Gujarat chief minister Narendra Modi as its PM candidate,
Read: Lalu Prasad Yadav, Misa Bharti ask people to teach former aide Ramkripal Yadav a lesson
*While keenly watching the Modi centric Lok Sabha campaign by BJP, muslims in Bihar have made it clear that their loyalties lie with RJD chief Lalu Prasad Yadav.
*By targetting BJP as communal, Lalu has been drawing support from the community who are trying to vote in chunks to keep the party out of power in the state.
"What we see now is that Muslim votes will split in 70:30 ratio, with a larger percentage favouring Laluji and rest going for other parties. There is a clear rural and urban divide among Muslims," said Muhammed Noorul Haque, a resident of Kabirpur village to a newspaper daily.
*He had Sharply reacted to the statements of VHP leader Praveen Togadia and BJP leader Giriraj Singh and said that if voted to power his party would ban RSS and BJP for 'hate mongering'.
"If my party comes to power, RSS, BJP and all such oranisations will be banned. These organizations work to spread hatred. We'll chase all these rioters out of India," Prasad had told reporters.
"Giriraj is not a leader at all. BJP is just a mask for RSS which is propagating communalism and fascism in India. When they are caught and criticised, they quickly retract their statements or start making excuses," he had said.
"God forbid if such forces come to power in India, they will put the entire country on fire which will engulf Hindus, Muslims, Sikhs and Christians. India will be destroyed," he had further said and Congress leader Sonia Gandhi too had made a similar statement.
Lalu Prasad Yadav's performance: Rashtriya Janata Dal (RJD) chief Lalu Prasad Yadav was sentenced to five years' rigorous imprisonment by a special CBI court in Ranchi in October last year after being found guilty in one of the fodder scam cases, there were many who predicted doom for his party.
He was disqualified from the Lok Sabha, and the RJD became rudderless after he was packed off to jail.
Why are others targetting Modi?
Mamata Banerjee's rise to power has been majorly due to Muslim vote-bank as the community constitutes slightly over one-fourth of West Bengal's population
Her campaign pitch, conversations across north Bengal and Kolkata reveal, is driven by a realtime calculations as Mamata wants to retain her vote bank and keep BJP out of power in the state.
While Congress leaders such as Sonia Gandhi, Rahul Gandhi and Priyanka Gandhi Vadra have been targetting Modi with terms such as 'Maut ka Saudagar', other non-aligned parties too have joined the fray now.