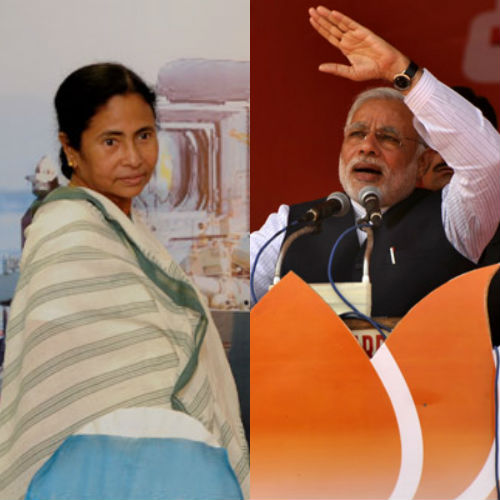 Mamata Banerjee's Trinamool Congress took a dig at Bharatiya Janata Party's Prime Ministerial candidate Narendra Modi and called him the 'butcher of Gujarat' which generated flak in the political circles. BJP's spokesperson Nirmala Sitharaman came forward and criticised Mamata's comments calling them 'demeaning' to Gujarat. She went ahead and said that Mamata was scared of BJP's power-show in West Bengal as TMC was not able to match upto the 'Modi' wave and hence the party had started making absurd statements.
The war of words started when Narendra Modi made a direct attack on West Bengal Chief Minister Mamata Banerjee. The ruling Trinamool Congress on Sunday termed him as 'the Butcher of Gujarat' in retaliation to the same.
Mamata who rose to power after defeating the Left has been criticised time and again for following populist measures and blaming the Center for Bengal's troubles. Here's a look at Mamata's political decisions, which have often been criticised.
*Involvement in scams: The multi-crore Saradha scam emerged as a major election plank in the Lok Sabha elections in West Bengal with major political parties like the Congress, BJP and CPI(M) training their guns against the ruling Trinamool Congress.
With the CPI(M) demanding a CBI probe into the scam that defrauded lakhs of small investors, the party's politburo member and former chief minister Buddhadeb Bhattacharjee accused the Mamata Banerjee run government of becoming a 'symbol' of the Saradha Group which defrauded lakhs in the state.
But, Mamata hit back at the Centre stating that it was UPA's fault for allowing chit-funds to operate.
Read: Mamata Banerjee targets Congress over Saradha scam
*Insensitive comments on women-security: West Bengal Chief Minister Mamata Banerjee had given insensitive reasoning for the increasing rape cases in the country. Mamata said that rape cases are on a rise in the country because men and women interact with each other more freely now. "Earlier if men and women would hold hands, they would get caught by parents and reprimanded but now everything is so open. It's like an open market with open options," she had said.
*Teesta water sharing controversy with Bangaldesh: In 2011, Mamata Banerjee, then an ally of the Congress-led UPA government, had backed out from Prime Minister Manmohan Singh's visit to Bangladesh at the last moment opposing the Teesta water-sharing treaty between India and the neighbour.
Touching on Teesta water-sharing and defending her stand on the issue, Banerjee had said "Why did I speak out on Teesta (water sharing)? Now you are seeing that Teesta has dried. Situation has been made such that in the coming days drinking water will not be available."
*Attacking freedom of speech: She had alleged that a section of media was suppressing facts and causing news pollution. She was pointing to projection of a few rape incidents in the state. "Everyday rape incidents are being highlighted as if the entire state has become the land of rapists. Rape is sought to be glorified by these people. This will not be tolerated by people. I would like to say that negative journalism only destroys and it is time to champion positive journalism," she said.
*Maoist sympathiser: Mamata Banerjee set-off a bombshell at Lalgarh earlier by saying that Maoist spokesperson Cherukuri Rajakumar alias Comrade Azad was killed in cold-blood and there should be a detailed inquiry into the incident. Besides asking for an inquiry, Banerjee demanded immediate withdrawal of Operation Green- hunt against the Maoists. She did a complete u-turn on the Maoist issue after coming to power in the state. One of her favourite tag for anyone criticising her has been 'Maoist'.
*The 'Anna' factor: The firebrand leader was upset because she was 'ditched' by social activist Anna Hazare, who failed to turn up at the 'joint rally' in Ramlila Maidan in Delhi. Not long ago, Anna had endorsed Mamata for the PM's post, saying she was the only leader in the country who had replied to his letter on 17-point agenda for the nation. But soon something went wrong between the two.
*Averse to criticism: Mamata Banerjee was offended by an uncomplimentary cartoon of herself on Facebook and got a Jadavpur University professor arrested for posting the picture. This caused intelligentsia who had tuned into her party ideology to abandon her for curtialment of freedom of speech.
*Attacking Narendra Modi with 'Butcher of Gujarat' comment:
In a series of tweets attacking Modi, Trinamool Congress termed Modi as 'The Butcher of Gujarat' who could not take care of his wife.
Trinamool national spokesperson Derek O'Brien today wrote on party website, "The butcher of Gujarat could not take care of his own wife. How will he take care of this great nation?"
"Modi has no answers to Bengal's development model and was therefore making personal attacks," he added.
Mr Modi is arrogant and a snob. He is making false allegations against a woman who has struggled all her life: Amit Mitra

— AITC (@AITCofficial) April 28, 2014
Mamata Banerjee is the epitome of honesty, integrity and accountability: Mukul Roy

— AITC (@AITCofficial) April 28, 2014
Mamata Banerjee is the epitome of honesty, integrity and accountability: Mukul Roy

— AITC (@AITCofficial) April 28, 2014