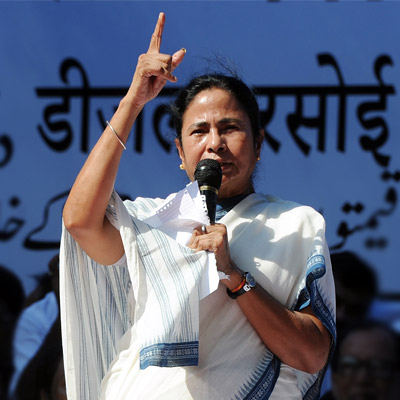 Targeting Congress for demanding CBI enquiry into the Saradha chit fund scam, Mamata Banerjee cocked a snook at the UPA government today saying it would find out after the Lok Sabha election results that it was unable to do anything, despite trying.
"I fight like a tiger. Let all unite against me. Let the central government and its agencies and a section of the media do that. When the ballot boxes are opened, I will show that despite trying so much you could not do anything," Banerjee, told an election meeting here in South 24 Parganas district.
"We want a ban on chit fund companies. We have been saying this for long. This is the view of my government and also my party. And, we don't have any transactions. It has been operating since the 80's," the Trinamool Congress chief said.
"You (Centre) siphoned off a lot of money from the 2G scam and from coal scam and so many other scams," Banerjee said.
"Today, Saradha issue has been brought forward just before the election. They did the same thing before the last panchayat election," she said.
"Why did the Government of India allow chit funds to operate and not declare them illegal? Chit funds were operating in Bengal since the 80's when the Left Front was in power," she said.
Dismissing reports of ED questioning Trinamool Congress candidate from Balurghat, Arpita Ghosh in the scam yesterday, the Chief Minister, said "Arpita was an employee there. I do not think it is a matter."
Referring to the arrest of Saradha Group chairman Sudipta Sen, Banerjee said that her party had taken action as soon the ponzi bubble burst and had set up a judicial commission which returned money to four lakh depositors.
"Those who were involved had definitely committed wrong."
Blaming the the Centre for trying to politicise the chit fund scam and failing to protect investors, she asked, "During 35 years of CPI(M) rule, what was RBI and SEBI doing? Was ED snoring in the office of a newspaper?"
Referring to a Bill against ponzi companies which was yet to receive assent from the President, Banerjee said, "We do not have powers. We will have powers only after consent is given to the chit fund bill passed in the Assembly." Naming some newspapers in the state which allegedly misled people by publishing advertisements of chit fund companies, she said, "Do you have only business interest and no social responsibility? If you take money from chit fund companies and glorify them, is it all right? All blame has to be put on us.
"Before criticising others you should ask yourselves what you have done," she said.
Referring to the demand for a CBI enquiry, she said there was no justice as yet on many probes including the murder of Tapasi Malik in Singur, the firing at Netai, Nandigram and Choto Angaria killings and the theft of Tagore's Nobel medallion.
"The CBI is the Congress Bureau of Investigation," she alleged. "What will they do? At best you can arrest me. I am the brave daughter of a brave father. I am not thief and a dacoit like you."
Stating the Opposition and a section of the media had ganged up against her to stall development work, she said, "They do not want that we work for the people. We are doing good work. That is why they have united against us.
"Some channels (TV news channels) are spreading canards against us. They are not doing good in the interest of the state," she said.