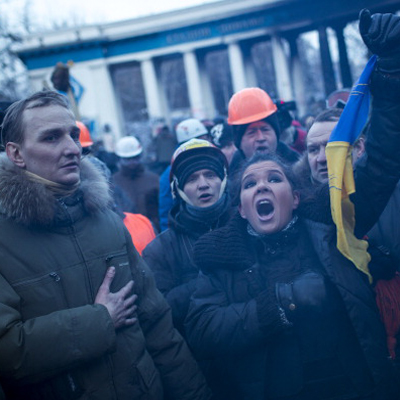 India, on Wednesday, voiced deep concern at the escalating crisis in Ukraine where pro-Russian separatists are locked in a violent stand-off with the Kiev government, and called for a political and diplomatic solution to the crisis.
India expresses 'sincere condolences to the people of Ukraine on the recent tragic loss of lives in Odessa', the external affairs ministry spokesperson said in a message.
More than 40 people, mostly pro-Russian activists, were killed Friday in a fire at a trade union building in the Black Sea port of Odessa. The activists had collected in the building after street clashes with pro-Kiev militants.
"India is deeply concerned at the escalating crisis in Ukraine that is marked by an increasing number of violent incidents. India once again urges all sides to abjure violence and seek a political and diplomatic solution that builds on recent agreements and takes into account the legitimate interests of all concerned," said the statement.
The two-month-old Kiev government has launched a military offensive to quell a pro-Russian insurgency in the east. Ukraine plans to hold presidential election May 25 which the Western powers view as crucial to restoring stability, but Russia has called it illegitimate.
Pro-Russian activists are controlling buildings in several cities in Ukraine. They are demanding more regional autonomy as well as greater ties or outright annexation by Russia.