Taking the Amethi battle up by another notch, the Bharatiya Janata Party (BJP) has released a one-page document evaluating and criticising the lack of development in the Gandhi-ruled Amethi. Incidentally, the release of the "charge sheet" also coincides with BJP's prime ministerial candidate Narendra Modi's rally in the town.
The document, published on their website, raises questions on nine areas of development including per capita income, MGNREGA, Gross District Domestic Product, MGNREGA, electricity, toilets, water, education amenities, electricity and participation in parliament.
Amethi elected 3 members of 1 family over the years but what did it get? This BJP Charge Sheet tells you just that http://t.co/EQyFwTDrTs

— Narendra Modi (@narendramodi) May 5, 2014
It points out that Amethi district's per capita income of Rs 19,896, is Rs 10,156 lesser than that of Uttar Pradesh which is at Rs 30,052.
It also takes stock of the Gandhi family's flagship project MGNREGA. It points out, "Of the 67,128 families that asked for their Right to Employment in Amethi district; a mere 2,174 actually got 100 days Employment translating to a 3.2% delivery rate of what the Congress has guaranteed by Law. This despite Amethi being the pocket borough of Rahul Gandhi."
Among other issues is that of water. The charge sheet states that a mere 20.4% households of RaeBareli district get drinking water by tap less than half the national average of 43.54%.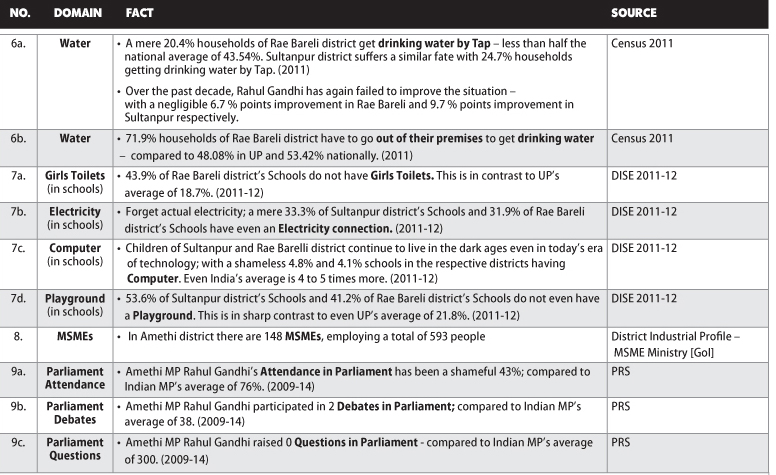 "Sultanpur district suffers a similar fate with 24.7% households getting drinking water by tap," it adds, citing 2011 figures.
Over the past decade, Rahul Gandhi has again failed to improve the situation—with a negligible 6.7% points improvement in Rae Bareli and 9.7% points improvement in Sultanpur respectively.
The charge sheet even accuses sitting MP Rahul Gandhi of minimal participation in the parliament. "Rahul Gandhi's attendance in parliament has been a shameful 43%," it says. It also points out that Gandhi only participated in all of two debates in parliament and he has raised zero questions."
The charge sheet concludes, "In the last 10 years, Rahul Gandhi has not raised a single issue relating to Amethi in any question or debate in Parliament."
"This shows his abject failure and utter disregard to solve the problems of the people of Amethi," it adds.
They have also released a documentary, 'Amethi's Untold Story' traversing the constituency, condemning its poor state of affairs.