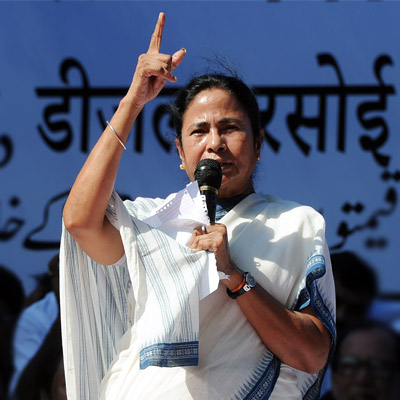 A team of BJP leaders that visited West Bengal's Birbhum district after a party worker's death has alleged Trinamool Congress workers were behind his killing and asked the Union Home Ministry to seek a report from the state government.
The 'Study Group', headed by party vice president Balbir Punj, in its report presented to BJP President Amit Shah today, charged minorities in the state were living under constant fear and insecurity.
The Union Home Ministry should take cognizance of such violent incidents and should direct the state government in taking immediate action and seek a report, the group has said.
The group asked the party to seek the intervention of the National Minorities Commission in the matter and asked the party's human rights cell to keep an eye on such incidents and ensure reaching out to the affected persons and help grant adequate relief to them by involving the Human Rights Commission.
The delegation of party leaders, led by Punj, met Shah at the BJP headquarters and presented its report on the death of party worker Sheikh Rahim on June 7 in Kanoor village in Ilam Bazaar of Birbhum district in West Bengal.
The delegation, comprising of Kirti Azad, Siddharth Nath Singh, Rahul Sinha and Abdul Rashid Ansari, was deputed by former party chief and Home Minister Rajnath Singh on June 12 to give an on-the-spot report on the killing of the BJP worker.
The delegation, in its report to the party, has also said that Trinamool Congress led by Mamata Banerjee is "feeling insecure" after the rise of BJP in West Bengal in Lok Sabha polls.
The report stated that the people of West Bengal had voted for Trinamool in the hope of a change in the state by ousting the 34-year-old rule of the Left and alleged CPI-M goons have joined Trinamool Congress ranks and are indulging in same things leading to dejection among the public.
The report further alleges Trinamool Congress goons are attacking BJP workers and looting their homes with the active support of the police and the government after the surge in BJP vote-share.