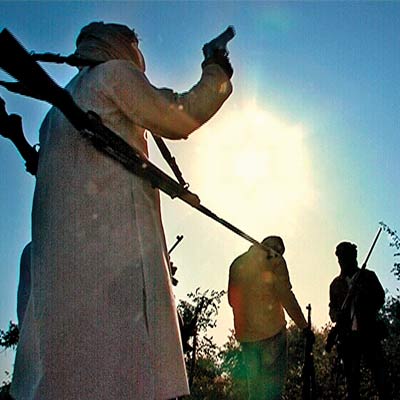 The bazaar for weapons, especially for AK-47 rifles, is thriving as gun and muscle power are actively used in the badlands of Bihar ahead of the general election. The weapons are so easily available to these goons that they are known to dump a firearm or two in rivers during police raids.
A series of expose by dna's sister concern, Zee Purvaiya, established that several gangs, thriving on political patronage, are preparing for the forthcoming election. Zee Purvaiya aired several confessionals by gang members, who said that they enjoyed political support. Bihar is a particularly volatile state; it has a history of goons coercing voters to vote for a particular party or candidate as well as has a reputation for booth capturing.
After a heavy exchange of fire between goons and the police during a night-long raid in the Diara belt, a special team of the Patna police arrested nine people, including gang leader Shanker Dayal Singh alias Fauji, and seized arms and ammunition. The police recovered 50 cartridges for the sophisticated AK-47 rifles even as the goons "dumped atleast 3 AK-47s in the river". Among the other arms seized were a Belgian-made sniper rifle, two made-in-US semi-automatic rifles and two police rifles.
"When I fled from the army with the AK-47, (politician) Rama Singh got in touch with me and sheltered me. He also took possession of the AK-47 I had with me," Shanker Dayal told Zee Purvaiyaa. "Several political leaders patronise us. We work for them and they give us money during their elections."
He indicated that some political leaders had approached him seeking help for the coming election. Incidentally, Rama Singh is the Lok Janshakti Party's candidate from the Vaishali constituency.
The case does not stand in isolation. A team of Purvaiyaa reporters ventured to an isolated location near the confluence of Ganga and Son rivers in Bihar. A walk through barren land and fields led them to a desolate stretch where some gang members, their faces covered, were waiting. The men moved freely even as farmers tilled the adjoining fields.
When asked what kind of arms they had and where did they come from, one gang member said: "We have AK-47s, Belgian sniper rifles, carbines and several others. AK-47s can be manufactured here. We get the other sophisticated weapons from various places."
Who does he work for? "It depends. Sometimes, we work for the sand mining mafia and during elections for leaders."
Arms booty
Three people arrested and multiple Insas rifles seized in Munger, Bihar, on 19 February 2014
Over 450 country-made pistols recovered during another raid in Munger on 1 March 2014
The next day, over 1200 semi-finished 9mm pistols recovered from Howrah industrial area in West Bengal; semi-finished weapons were to be brought to Bihar for final assembling and finishing touch