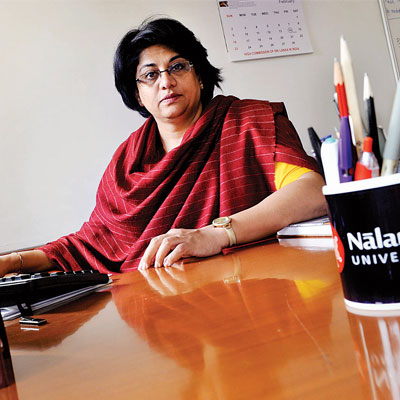 Eight years after it was first proposed, and more than three years after the Indian parliament passed a law in September 2010 endorsing its creation, Nalanda University will open its doors to students this September. But the occasion will not be the grand affair befitting the "global" project as originally envisaged.
The temporary campus will come up on a 4.5 acre plot, a fraction of the 450-acres on which the original campus is to be built in Rajgir, Bihar. An existing structure — a two-storied government school building — will house the faculty study rooms, administrative offices and the library, said Gopa Sabharwal, vice chancellor, Nalanda University in a conversation with dna in the capital. Around a dozen houses, standard government quarters on the compound, are being renovated to house the faculty, many of whom will be international.
In what Sabharwal described as "a soft launch", Nalanda University will open with just two schools — Historical Studies and Ecology & Environment Studies. The university will have five more schools but these will only start operations three years later, in academic session 2017-18. Each school will have "a maximum of 15-20 students per course", according to Sabharwal.
Classes will be held in two seminar rooms at the Rajgir International Convention Centre, located at walking distance from the temporary campus, which will also have a "faculty lounge". Students will be housed at a temporary hostel on two floors of the adjoining Tathagata tourism facility, run by the Bihar government.
Barely six months from the start of the session, Nalanda University has not yet frozen any of its faculty positions although Sabharwal said that interviews have been done and candidates shortlisted. "We had 500-odd applications for the two schools. The competition for associate and assistant-level professorial posts was top-notch. Offers for deans have been made, and people have to accept," she said.
The kind of international faculty the university bring onboard will be key to attracting the student body, and establish itself as a centre of excellence, and the only way to get talent is to pay them well. Faculty at Nalanda will be paid between $30,000-$45,000 per annum (at the rate of Rs50 to a US$), said Sabharwal. "It [the salary] is not that high," she conceded but added that the controversial tax breaks on academic salaries at Nalanda will help somewhat to attract international scholars to relocate to remote Rajbir.
Meanwhile, last Friday, the cabinet cleared a proposal to provide Nalanda University with Rs 2,727.10 crore as support until 2021; Of this, Rs 1,749.65 crore is for capital expenditure (primarily to build the campus), and Rs 977.45 crore for recurring expenditure.
The matter had raised a storm as a note from the finance ministry, seeking government oversight into the project, had led to the University's chancellor and chairman of governing board, Amartya Sen, threatening to resign.
"We don't have a problem," said Sabharwal. "We're open to an audit."
Sabharwal refuted the controversy and said that the university had come up with a plan to raise revenues to meet as much as 60% of its expenses by 2021, when it will be fully functional. "Most Indian universities at full capacity only raise 15-16% of their funding; we've already said we'll raise 60%, through fees and other revenue streams."
The Bihar government, she revealed, had also decided to give the university 100 acre of land next to the campus as an endowment. The income from this land, which the university will develop for commercial exploitation, will help it meet expenses.