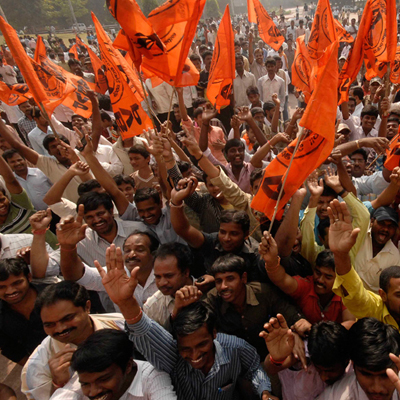 All the three Union Ministers from Telangana, including S Jaipal Reddy, were renominated for Lok Sabha polls as Congress tonight announced 16 candidates out of a total of 17 from the region which is set to become a separate state.
The party also released a list of 110 candidates for the assembly polls in Telangana region which are scheduled for April 30. The region has a total of 119 assembly seats.
Most of the sitting MPs have been renominated from their respective constitiencies.
Jaipal Reddy has been shifted to Mehbubnagar from Chelvella. Two other Union Ministers renominated are Sarvey Satyanarayana and Balram Nayak from Malakagiri and Mehmoobabad respectively.
The party has renominated G Vivekanand from Pedapally (SC) constituency soon after he rejoined the party.
In a bid to woo the backward classes predominant in the region, Congress has nominated 29 from OBCs, which account for 26 per cent of the total assembly seats in Telangana.
It has also nominated 20 candidates belonging to SC, 9 from ST and five minorities. Two of the SC candidates will be contesting for general category seats. 47 candidates are from the general category.
Congress is banking heavily on a good show in Telangana region as it has suffered in the Seemandhra region following the decision to bifurcate Andhra Pradesh.
While the party had held talks with TRS for an alliance after it rejected the proposal for merger, the tieup did not materialise.
However, the party is expected to clinch an electoral deal with CPI. An indication to this effect was available as the party has not named candidates for nine assembly seats and one Lok Sabha seat.
Congress has come out with the list a day after TRS declared its candidates for the assembly polls.
Others renominated for the Lok Sabha polls are Ponnam Prabhakar, Madhu Yakshi Goud, Sureshkumar Shetkar, Sukhender Reddy, K Rajagopal Reddy, Anjan Kumar Yadav and Siricilla Rajaiah.
Naresh Yadav from Adilabad (ST), Sravankumar Reddy from Medak, Kartik Reddy from Chelvella, Nandi Yelliah from Nagarkurnool (SC) have also been nominated.
In the assembly polls, most of the senior leaders have been renominated, including former Deputy Chief Minister Damodar Rajnarsimha, Telangana PCC Chief Ponniah Lakshmanaiya, PCC Working President Uttam Kumar Reddy.
The party has sought to minimise the influence of TRS by nominating two representaives each of the Joint Action Committee and Osmania University students union which has been in the forefront for the separate Telangana statehood agitation.