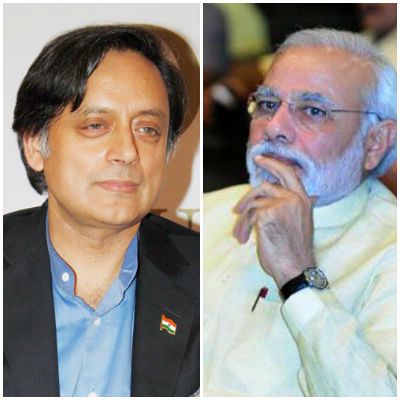 Shashi Tharoor in his article in Huffington Post observed that Prime Minister Narendra Modi has come a long way from his days of being known as a communal leader.
He said that Modi who was seen as 'a divisive, sectarian, authoritarian figure' has not only rebuilt his image as the 'apostle of development' but has evolved into being an inclusive leader.
He believed that in this Lok Sabha elections Modi was cautious to not antagonise the minority community and 'went out of the way to avoid confrontational language'.
Tharoor noted that the Bharatiya Janata Party (BJP) had excluded the Hindutva factor from their campaign and was able to cash in immense number of votes with the tunes of the development raga.
He however found it surprising that the BJP stayed away from excessive celebration of their victory.
Tharoor acknowledged that the fact that Modi has been trying to pacify his rivals. He spoke about Modi tweeting back at him after he had sent him congratulatory tweet after Modi's landslide victory.
@ShashiTharoor Many thanks. Congratulations for your victory as well. Lets work together to create a better India!

— Narendra Modi (@narendramodi) May 16, 2014
He extended this warmth to the leaders of India's neighbouring countries. Though he used fiery rhetoric against Pakistan and Bangladesh, after assuming the role of Prime Minister designate, he invited all South Asian Association Regional Cooperation (SAARC) leaders attend his grand swearing in ceremony.
Tharoor wondered if Modi's 'evolution' is for real and whether there is a truly a departure from divisive politics by the BJP. He believes that Modi knows that for a successful governance, he needs to lead 'from the center and not from the extreme right'.
Tharoor concluded by saying that it would be 'churlish' of Modi's rivals including himself to not acknowlegde his 'inclusive outreach' and welcome his conciliatory statements and actions.
But he added that the moment Modi shows any signs of divisiveness, he would be robustly resisted since India's people deserve a pluralist democracy.
Read the full article here