Parliamentary decorum reaches all-time low in a hail of pepper spray as speaker calls for Telangana Bill to be introduced; 3 MPs given first aid, 16 suspended. "Black day for Parliament," says minister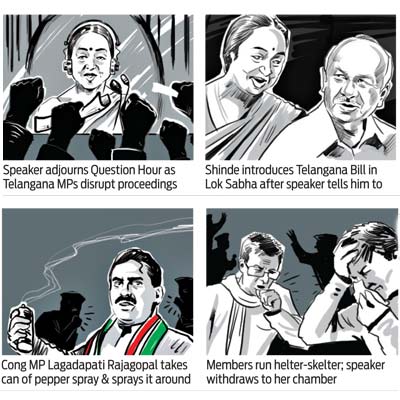 Parliament and the nation were stunned by Vijayawada Congress MP Lagadapati Rajagopal's irresponsible and delinquent behaviour in the Lok Sabha on Thursday when he used a pepper spray and spewed it all around, causing panic and extreme discomfort to members in the chamber. The Congress-led UPA government used this as a smokescreen to introduce the contentious Telangana Bill in the House. It was the most unparliamentary scene witnessed in recent times.
Boycott and disruptions have become part of parliamentary procedure in the last five years. But Lagadapati's use of pepper spray crossed the bounds of impropriety and verged on the criminal because the spray hurt people around. Telugu Desam Party's Venugopal Reddy added to the mayhem by breaking the glass of the table in the House and broke the mike of the secretary-general of Lok Sabha.
Lagadapati meant to use it as a weapon of dissent and protest. This was juvenile delinquency on the part of the member of parliament. He would not argue against the bill when it came up for discussion. He would not let it be introduced because he is opposed to it. And so did all the Seemandhra members. The Telangana MPs behaved in exactly the same objectionable manner by disrupting the House throughout last year.
Rajagopal who is one of the six Congress MPs expelled from the party on Tuesday had a different take on the ugly episode saying that he used it to defend other Seemandhra MPs who were being attacked in the well. "Even the non-Andhra MPs of the Congress were in the well. They were attacking us," he said.
Rajagopal is among the richest MPs from Andhra with Rs300 crore of assets. Clearly wealth does not help people to refine their habits. TDP MP Venugopal Reddy was also amid the action and was seen to have pulled out what looked like a knife. He however denied it saying that he was only swinging a mike he had pulled out.
There are very few from among the opposition parties who want the errant members to be given exemplary punishment. The opposition parties see it as a failure of the Congress and they do not want any burden or obligation to be placed on the shoulders of an individual MP. They feel that the Congress should have handled the Telangana issue with tact and maturity instead of trying to push through such an important bill.