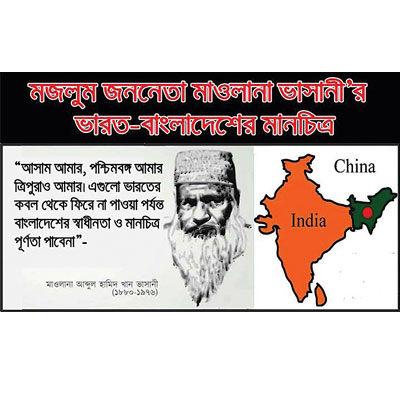 The website of BJP Punjab (bjppunjab.in) on Tuesday was taken over by Bangladesh Grey Hat Hackers (BGHH). The hackers warned the BJP and asked it to decide on its agenda on Bangladesh, because keeping in line with popular peasant leader Abdul Hamid Khan Bhashani's declaration, the freedom of Bangladesh will remain incomplete until Assam, Tripura and West Bengal become a part of the country.
Taking over the website of the BJP Punjab state unit, BGHH wrote that if the party wants to send Bangladeshis back to their country, they must take in the Indians staying in Bangladesh too. It posted: "A message to BJP: If you send Bangladeshis back to our country then take back your Indians. If you demand Sylhet to khulna, then we demand Assam, West Bengal, Tripura... Now the choice is yours."
It also posted a picture of the Indian map, where West Bengal and the the northeast were marked in the same colour as Bangladesh. It further posted a quote from Bhashani in Bangladeshi, which when translated, read: "Assam is ours, West Bengal is ours, Tripura is ours. Until we secure these from the clutches of India, Bangladesh's freedom will not be complete. -- Maulana Abdul Hamid Khan Bhashani (1880 - 1976)."
BJP's Punjab state unit head Rakesh Goyal alleged that the political move is backed by Pakistan. "There is no doubt that there is a Pakistan hand at play in this. This is the second time in 15 days that they have hacked our website," said Goyal. "Our technical team is working to ensure that they do not do this again. But these hackers are trained professionals, they are paid to do this. Our website has registered 2.10 lakh visitors till now, and Jaitleyji is contesting the elections from here. So these are just political machinations at play."
The BJP's stance on Bangladesh, as presented in its manifesto, seems to have not gone down well with the country, with many leading dailies protesting against the party. BJP had declared that they will rebuild fences on the Bangladesh border, and will relink the rivers that flow between both the countries. Hacker group BGHH has hacked many websites, including defacing Israeli websites, hacking a BCCI website and the website of an Indian TV serial.