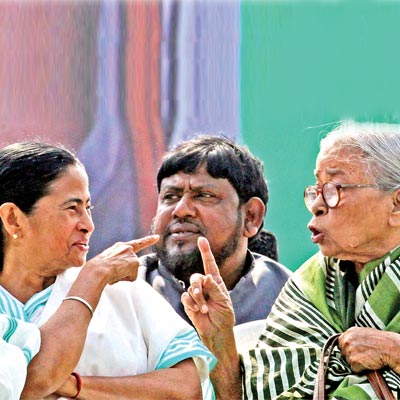 Setting her eyes on the prime minister's chair, Trinamool Congress chief Mamata Banerjee on Thursday announced her party's aim to play a lead role in formation of a federal front at the Centre.
"We need poribortan (change) in Delhi. We want to give this call from Bengal: What Bengal thinks today, India will think tomorrow. Bengal will show the way," she said asserting that her Trinamool Congress is the only alternative to the Congress and the BJP.
She announced this while launching her party's campaign for the Lok Sabha polls at a mammoth rally here at Brigade Parade Grounds.
"Our slogan is 'Remove Corruption, Save India.
"And to make this a reality we want to get in touch with our friends in other states and work with them," she said, referring to the various regional party chiefs like Nitish Kumar who, in recent times, have indicated intentions to not to ally with either the BJP or the Congress.
"We are making this call from Bengal to create a federal front of strong regional parties. There is a need to strengthen the federal structure in our country and in this Trinamool Congress will play a pivotal role in strengthening states," Mamata said.
Lakhs of Trinamool supporters attended the rally, which saw one of the largest political gatherings ever seen in Kolkata.
The message that Mamata is joining the race to the high office was made clear by placing placards "Mamata for PM" across the expanse of the Brigade Parade Ground, and eminent litterateur Mahasweta Devi announcing that she wants Mamata at the helm of "Dilli's masnad".
"I have full faith and confidence in her. I want to see her in the seat of power in Delhi. She is probably competent enough to be the prime minister," said the Magsaysay and Jnanpith winning writer-activist.
"The Left Front got a chance to play a role in forming government at the Centre but failed. This time we will do it," Mamata said. In 2011, she had teamed up with the Congress but the ties soured soon after the state government was formed. This time the Trinamool will fight alone filing candidates and strive to win all the 42 Lok Sabha seats.
"We can win them all, and will contest in other states as well. I'll campaign outside West Bengal also," she said. Though Mamata spoke mostly in Bengali, she switched to Hindi on a few occasions to introduce representatives of the party attending the rally from 13 other states.
The Trinamool has already set up base in states such as Assam, Manipur, Meghalaya, Punjab and also Uttar Pradesh. "The more number of Lok Sabha seats we win, the greater will be our importance," she said.