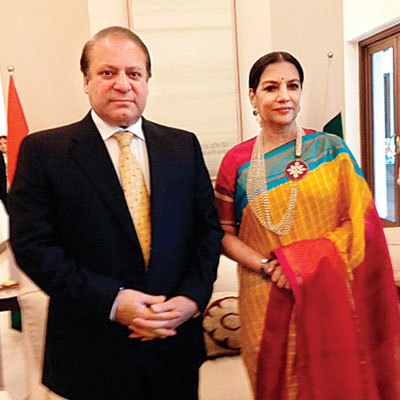 At a very exclusive and private tea party on Monday afternoon at 5 pm, hosted at the residence of steel tycoon Sajjan Jindal in Delhi, Shabana Azmi met the prime minister of Pakistan Nawaz Sharif.
The two hit it off from the word go. Says an informed source, "He seemed to have a lot to share with Shabana Azmi about cultural exchange between India and Pakistan. Nawaz Saab is a big fan of Bollywood. He asked Shabana numerous questions about her father Kaifi Azmi, and about Lata Mangeshkar, Dilip Kumar and Amitabh Bachchan. He also invited Shabana and her husband Javed Akhtar to Pakistan and wanted to know how he can invite Lataji and Bachchan Saab."
Shabana confirms, "Yes,I met Nawaz Sharif. He was most gracious and courteous. We had a conversation about our film industry. He's a big fan of my father, Lataji and Mohd Rafi Saab."
Shabana suggested that India and Pakistan must share cinematic space. Says the actress-activist, "Yes, I insisted that we have co-productions between India and Pakistan. He wanted to know if such attempts have been made in the past. I told him this matter needs to be addressed to the powers-that-be. He laughed and asked me, 'Am I among the power-that-be?' I said , of course." Shabana says the meeting was very fruitful. "And perhaps a precursor to the peaceful times ahead between the two countries."